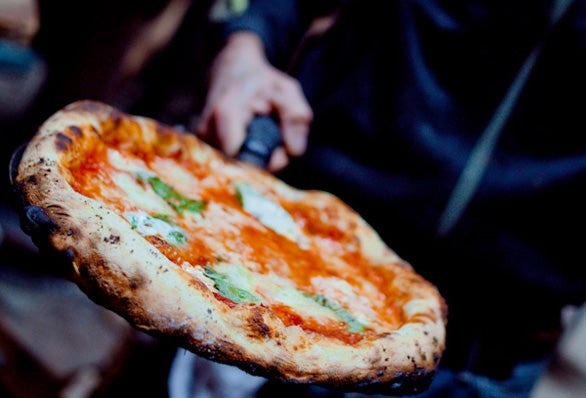 Six years spent working as a line cook and bread baker have made Eric Wolfinger uniquely qualified for his current career as a food photographer. Eric's kitchen experience influences his documentary shooting style, as well as his approach to making food look delicious: "You have to start with appetizing food, and then shoot as if you are eating."
These pizza shots were taken with a Canon 5D Mark II and a 35mm lens. Eric needed photos of pizza dough cooked by a real wood fire. He recruited his friend Jeff, who has been tinkering for the past year to modify a Weber grill into a pizza oven capable of baking pies at 850 degrees. (Jeff, known locally as the PizzaHacker, bakes and sells his pies on the streets in San Francisco's Mission district using a similar oven.) They set up the camera equipment and modified oven in a forge and started baking.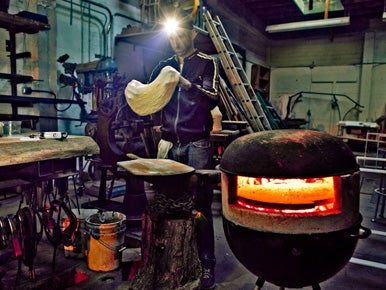 "I love mixing ambient light with a little bounce flash. I waited for the blueish light of dusk to pour through the skylights, and then used a speedlight flash bounced off of a translucent reflector for a subtle fill," said Eric. "The important thing was figuring out how long of an exposure I needed to get enough ambient light, and then adjusting the power of my flash to fill in where detail was needed."
Still a cook at heart, Eric prefers to photograph his food naturally–capturing hot food when it's still hot. The instant feedback he gets by shooting digitally and with natural light allows him to make quick adjustments on the fly and get the shot quickly, without resorting to typical food photography tricks to make food look appetizing for long periods of time.
The top image was shot with an 1/10th of a second shutter speed and an aperture of f2.8. The image of Jeff prepping the dough was shot with a half of a second shutter speed and an aperture of f2.5.
You can see more of Eric's photos at ericwolfinger.com. To track down the Pizza Hacker, follow him on Twitter: @pizzahacker.
Show us your best food shots! Send us your yummy photos and a description of your favorite food photography tricks to digitalphoto@macworld.com. We'll pick our favorites and feature them in the next Snapshot column online.
This article was updated at 12:35 a.m. to add background from photographer.