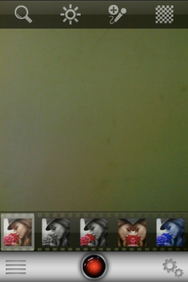 The appearance of third-party video-recording iPhone apps from vendors such as Qik was an oasis in the desert to owners of original iPhones such as myself. But in the case of the popular Qik Video Camera, which recently disappeared from the App Store, perhaps the oasis is nothing more than a mirage.
Qik's app was a godsend: it extended the usefulness of both the iPhone and iPhone 3G as well as taking away a significant temptation to upgrade to an iPhone 3GS. I'm sure it stopped me and many others from purchasing—and having to carry around—a separate video camera.
Initially Qik, a video-sharing site, only released Qik Live, an app previously available for jailbroken iPhones that allowed for live streaming of video shot with the iPhone's camera. Qik Live could only shoot videos at up to 9 frames per second and had a severely limited recording area—about half the iPhone's screen.
Subsequently, Qik released Qik Video Camera, which quickly rose in popularity due to its ability to record up to videos at up to 15 fps and select between lower or higher resolutions. It also lets you export videos to the iPhone's Camera Roll, which could then be edited using the built-in Trim feature, just as if you were using an iPhone 3GS.
In a later update, Qik changed the app's icon, altered the interface, and included new features, such as the ability to add effects, adjust brightness, increase audio sensitivity, or adjust the digital zoom using a slider. Sold for $2, Qik Video Camera remained in the top 25 paid apps on the U.S. App Store until its disappearance.
There was no mention about the removal of Qik Video Camera on Qik's Website or blog and e-mails to Qik went unanswered. The app's page however, remains on Qik's website. However, a post on Get Satisfaction by a Qik staffer under the name 'jiuyu' said, "We will be back to the App Store with an UPDATE soon! Stay tuned :)" and an inquiry directed to Qik's Twitter account yielded a similar response.
It's jarring for a popular app to disappear so abruptly, though it's hardly the first time something like this has happened. Given that other video-recording apps for iPhone and iPhone 3G are still available on the App Store, it suggests that Apple hasn't made a sweeping policy change about allowing older iPhones to record videos. Combined with Qik's own admission that an update is on the way, it seems more likely that the company is fixing an issue or problem with the software and pulled the current version in the interim.
As it stands, if you've bought Qik Video Camera, make sure you have it in your iTunes library and also backed up somewhere, since it's unclear when you might next be able to download it.