At a Glance
Expert's Rating
Our Verdict
Wires? They're so last century. Since iPhone OS 3.0 introduced support for stereo Bluetooth via the Advanced Audio Distribution Profile (A2DP), owners of an iPhone 3G or 3GS, or a second-generation iPod touch, can choose to rock out to their favorite playlists with nary a cable in sight. Jaybird's $89 Sportsband Bluetooth Headphones SB1 is one such way to wirelessly listen to music from your iPhone and many other Bluetooth-compatible devices, including all recent Macs.
(Because Apple hasn't yet implemented the Audio/Video Remote Control Profile [AVRCP] on the iPhone, neither headset can directly skip tracks on that device, which is frustrating. In this modern era of oft-shuffled music, track navigation is a frequent necessity, and my biggest hope for iPhone OS 4.0 is that AVRCP will finally arrive. Jaybird mentions that you can use Voice Control, triggered from the headset, to change tracks. That's factually accurate, but brutally painful: It takes a few seconds to get the headset to start Voice Control, and a few more seconds for the iPhone to be ready to listen. Skipping one track can take 10 seconds from start to finish. It's a nice idea, but it just doesn't work that well at all. When you listen to your Mac's audio using the SB1 headphones, the track-skipping controls work great, so I've tried not to hold it against the headset itself that it can't navigate tracks on the iPhone.)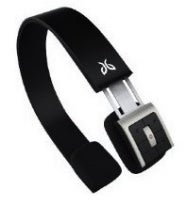 The SB1 initially inspired a mixed reaction: The headphones look great, but the earpieces themselves, which sit on your ears ( supra-aural) instead of over them, struck me as decidedly retro. Also, the flimsy foam pads were loose on the model I tested—I worried about ripping (or, worse, losing) the square pads completely.
Still, the earpieces are fairly comfortable, and the flexible headphone band adjusts to fit even my goofily-large head. I wouldn't want to wear the SB1 for hours upon hours, thanks to the continual pressure the earpieces place directly on my ears, but I was able to wear them comfortably for a couple hours at a time.
The first time I connected the SB1 to my iPhone, the volume was much too loud. But because of the iPhone's Bluetooth implementation, I couldn't adjust the headset's volume from the iPhone itself; instead, I needed to reach for one of the five buttons on the SB1. That was tough, though: With all the track, volume, and power controls centered on the right ear, there's no easy way to distinguish which control button was which. Until I learned the control setup, I had to pull the headphones off to figure out which button would lower the volume. I'd much prefer volume controls on one ear and track controls on the other.
The best news about the SB1 is that it sounds great. Although Bluetooth uses lossy compression, I found that my MP3 and AAC songs sounded good, with impressive bass response. Midrange and treble audio were a bit weak, but minimally so.
You can also use the SB1 for hands-free phone calls. Those features worked fine, although the folks on the other end of my calls thought I sounded quiet, and like I was using a speakerphone. Since the microphone is on the right earpiece, rather than near your mouth, that's not too surprising.
The SB1 charges via a proprietary USB cable (via your computer or any USB power adapter). Jaybird claims the SB1 gets 8 hours of music, or 11 hours of talk time, on a single 2.5 hour charge, and that meshed with my experience.
Macworld's buying advice
The SB1 is comfortable and tight enough not to slip off your ears no matter how strenuous your workout.