At a Glance
Expert's Rating
Our Verdict
With the introduction of support for stereo Bluetooth via the Advanced Audio Distribution Profile (A2DP) in iPhone OS 3.0, owners of an iPhone 3G or 3GS, or a second-generation iPod touch, can enjoy music without wires. Like the company's Sportsband model ( ), Jaybird's $130 JB-200 Freedom Bluetooth Headphones Iets you wirelessly listen to music from your iPhone and many other Bluetooth-compatible devices, including all recent Macs.
(Because Apple hasn't yet implemented the Audio/Video Remote Control Profile [AVRCP] on the iPhone, neither headset can directly skip tracks on that device, which is frustrating. In this modern era of oft-shuffled music, track navigation is a frequent necessity, and my biggest hope for iPhone OS 4.0 is that AVRCP will finally arrive. Jaybird mentions that you can use Voice Control, triggered from the headset, to change tracks. That's factually accurate, but brutally painful: It takes a few seconds to get the headset to start Voice Control, and a few more seconds for the iPhone to be ready to listen. Skipping one track can take 10 seconds from start to finish. It's a nice idea, but it just doesn't work that well at all. When you listen to your Mac's audio using the JB-200 headphones, the track-skipping controls work great, so I've tried not to hold it against the headset itself that it can't navigate tracks on the iPhone.)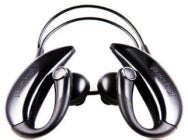 The JB-200 is an earbud-style headset with loops that fit snugly over your ears; the wire that connects the two earpieces is meant to run behind your head. The product manual stresses repeatedly, and in all-capital letters, the care one must take in putting on the JB-200: IT'S VERY IMPORTANT TO HAVE THE HEADSET SNUG AGAINST YOUR HEAD. The manual goes as far as urging you to learn to put the headset on in front of a mirror.
Properly "snug," the JB-200 feels a bit unpleasant on my (again, admittedly large) head. The over-ear clips squeeze my head, and the buds are a bit uncomfortable in my ears. (The package includes alternate tips for the earpieces; I found they all felt mediocre, at best.)
Pairing the JB-200 is quick and painless. The same can't be said for using its buttons. They're tiny, and they're placed oddly on the thin edge of the ear clips, instead of the wider side. And because the JB-200 is meant to be water-resistant and sweat-proof, the buttons are "sealed"—a design that makes those buttons much too difficult to push.
Once you've memorized the button layout and properly positioned the headset ("SNUG!") on your head, it's immediately obvious why Jaybird stresses headphone placement so much: The positioning of the earbuds seriously impacts the quality of the audio—and, to be frank, the JB-200 needs all the help it can get in that department. That's because even when perfectly placed, the JB-200 suffers from an overly-trebly sound, lacking any real bass punch, with muddled mid-range. I suspect the silicone earbuds themselves may be largely to blame, but I don't have other rubber buds to prove that theory.
An equally significant problem is that, regardless of how patiently and deliberately you put the JB-200 earbuds on, they inevitably will start to slip out of your ears—or at least they did for me. Slowly but surely, the fit gets looser, and the sound gets lousier. Pushing any of the buttons will exacerbate the ear slippage, but its happens either way. The JB-200 is marketed to runners, but I can't imagine its earpieces would stay firmly seated in your ears during that kind of physical activity.
Macworld's buying advice
Although it works for listening to music wirelessly, the JB-200 provides tinny sound and an awkward design.
Note: When you purchase something after clicking links in our articles, we may earn a small commission. Read our affiliate link policy for more details.