Review: iStabilizer Dolly creates smooth, stable tracking shots with your phone or camera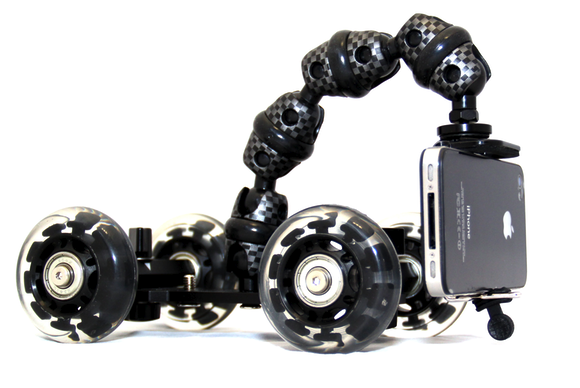 Today's Best Tech Deals
Picked by Macworld's Editors
Top Deals On Great Products
Picked by Techconnect's Editors
A while back, while shooting a video, I wanted to execute a dolly move—a smooth pan across a scene, made possible by mounting a camera onto a wheeled platform and rolling that platform sideways. I had neither the right equipment nor the necessary crew, so I improvised by balancing the camera on top of a wooden toy bus belonging to my daughter.
If no rolling toys are underfoot, iStabilizer's $60 Dolly is an actual tool for the job, designed for shooters using small devices such as an iPhone, iPod touch, or compact camera. This small, configurable platform features four wheels and an articulating arm that lets you move the camera smoothly—on a flat surface, of course.
I attached my iPhone 4S to the included iStabilizer Mount, a spring-loaded clamp that securely grips the phone's sides. Any phone up to roughly 2.8 inches wide (including the case if you use one for your phone) will fit. One thing to watch out for: You need to be careful when inserting an iPhone not to position the Dolly's clamp over the phone's volume buttons—especially considering that these buttons act as shutter releases when using the Camera app.
Alternatively, you can remove the iStabilizer Mount and use the Dolly with any small camera that accepts a standard 1/4-inch threaded mount. My Nikon D90 DSLR was too heavy for the arm to support in any position other than straight vertical, but my more-compact Canon PowerShot G12 did fine unless I extended it too far to the side (which caused the Dolly to tip from the weight).
Whether you use the Mount or a camera's threaded mount, your phone or camera attaches to an 8-inch jointed arm that offers many different positions for your photo-shooting device. You can even put the iStabilizer on a raised track or table edge and hang the iPhone down below that surface. The joints are really tight, which is great for stability, but they mean that the arm isn't always easy to move—you should expect some wrangling as you set up your shots. (I also recommend getting a leveler app, or using a physical level, to ensure that your phone or camera is lined up parallel to the surface.)
You could, of course, achieve the same effect by setting your camera on a skateboard, but you'd be limited to moving back and forth in a straight line. One of the Dolly's best features is the capability to pivot the wheel axles. Degrees are marked on the Dolly's base, and those markings line up with an arrow on each axle. This configuration lets you film, for example, a 360-degree pan around a subject, or to make tight or loose curves as the scene warrants.
So how does the Dolly roll? The wheels, which look and feel like inline-skate wheels, roll smoothly and quietly, two requirements for this kind of accessory. In fact, my biggest criticism surrounding the Dolly is directed at myself: It takes practice to move the Dolly fluidly at a constant speed. (In Hollywood, dollies are usually large, mounted on rails, and pushed by skilled drivers.)
Bottom line
A bit of cinéma vérité-style camera shake is expected when you're capturing spontaneous video moments on an iPhone or iPod touch, or a compact camera, but that bouncy footage can also come off as amateurish, revealing that your little indie movie is actually being shot using a phone. The iStabilizer Dolly is a compact, configurable device for those times when you need smooth, stable tracking shots.
This story, "Review: iStabilizer Dolly creates smooth, stable tracking shots with your phone or camera" was originally published by TechHive.
Note: When you purchase something after clicking links in our articles, we may earn a small commission. Read our
affiliate link policy
for more details.
Shop Tech Products at Amazon