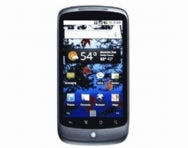 On Wednesday, Google's Nexus One went four for four with the U.S.'s major cell phone carriers as Sprint announced that it too would add the Android-based smartphone to its lineup in the near future.
While Sprint didn't provide pricing or availability details, it did say that the Nexus One would be for use on its 3G network, not the 4G network that the company's been touting in its recent ads.
The Nexus One debuted on T-Mobile at its original unveiling in January, and Google said at the time that support for Verizon would be coming in the spring. Since Verizon and Sprint use the same EVDO technology for their 3G networks, it's likely that the Verizon model is just around the corner.
Still, this is the second carrier that the Nexus One has hooked up with this week. On Tuesday, Google released an AT&T-compatible version of its Nexus One smartphone, though that model was offered with no agreement through AT&T, selling only for an unsubsidized price of $529.
T-Mobile, on the other hand, offers the Nexus One for $179 with a new two-year contract. The nature of Sprint's announcement suggests that the carrier may offer a contract deal for the Nexus One, though it also said that the Nexus One would be available only through Google's own online store, and not via any Sprint retail locations.