Golfers are on a seemingly never-ending quest to perfect their swing. Cultivating a decent swing requires lots of study, practice, and, of course, patience. One of the most important things you can do is to regularly analyze your swing to find and correct bad habits. That's where V1 Golf from Interactive Frontiers comes in. With V1 Golf for the iPhone, you can record your swing and compare it side by side with top PGA pros to see exactly what you need to work on.
When you first use V1 Golf, the app prompts you to create a free account V1Golf.com. Once that's set up, you get an online locker where you can store your videos for future reference.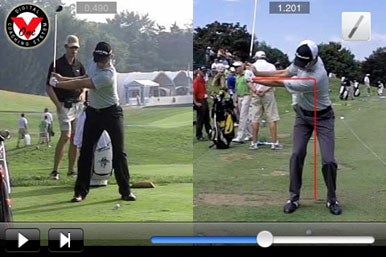 Besides storing videos at the site, you also have them on your device, where you can organize in them different folders—favorites, woods, irons, face-on, down the line, and so on. Once you have recorded your swing you can play it back in slow motion as well as scrub forward and backward to any point in the video. You can also trim your video down by deleting frames as well as share it through e-mail.
V1 Golf has a library of many pro golfers' swings from both face-on and down-the-line points of view. These high-speed videos are all shot at 300 frames per second. There's also several tips and drills from the pros covering everything from arm position, follow though, and posture to chipping, wedge shots, and pre-shot routines. Many of these drills are quite insightful and could go a long way in helping you improve your game.
Tips and drills are great but V1 Golf's best feature is its ability to compare your swing to the pros. You just select your video and one of the pro videos; they'll appear side-by-side in either portrait or landscape view. You can also choose to have one video transparently overlay the other for an even closer comparison. You control the playback of each video separately by taping the video you want to control.
V1 Golf has several drawing tools to help analyze your swing. You can draw lines, squares, circles and angles over videos in a few different colors. You can undo the last shape you drew or just shake the device to erase them all. Any lines or shapes you draw over a video are saved for the next time you view it; you can erase them at any time.
Selecting the hand tool allows you to zoom in and pan around to get things lined up just right. You can even flip the video for a mirror image which is great for comparing left- and right-handed golfers.
If you're an avid golfer or just play every once in a while V1 Golf could really provide great insight to your game for $10. You may be surprised to see what your golf swing really looks like. The latest update adds support for 15 frames-per-second video capture to iPhone and iPhone 3G models; iPhone 3GS users can capture video at 30fps.
[Tim Mercer is a technology enthusiast, graphic designer, and blogger, whose blog, digital-artist-toolbox.com, offers free resources to the digital artist and graphic designer.]