Developers Intersog and Dirty Edge seek to redefine the tower defense genre with Hellemental. Unlike traditional tower defense games where the player sets up a slew of strategically placed weapons in hopes of slaughting lemming-like foes in an assembly line fashion, Hellemental instead relies on the magical abilities of a single defender. While this concept may remind iPhone gamers of Archmage Defense, the difference between the games is more than the morality of the protagonist. Unfortunately, Hellemental's twist on the tower defense genre doesn't garner a better gaming experience.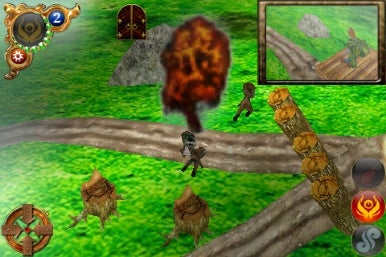 You play as Elija, a wizard in charge of your kingdom's defense in this 3-D fantasy world. Elija is a disturbingly short (hence the tower) wizard who has offered his help to the defenseless people of Norlisk for a fist full of gold. The miniscule magical mercenary is hired by cities which are threatened by Hellementals—creatures who use the elements of earth, fire, wind, and water for evil.
The game plays out with Elija perched on his tower awaiting the troublesome creatures' assault. Instead of setting up strategic defenses, the player merely controls where Elija hurls his magic by tapping on enemies. Different types of weapons can be purchased, however the gold earned per level will not supply you with much ammo. There are seventeen weapon types altogether, four for each element, and one with infinite ammo, in case you run out of the good stuff. The only strategy needed involves deciding which weapon to use against each enemy; for instance, water has the greatest effect against the fire Hellementals, etc. Matching up your weapon with the appropriate enemy type is sadly the deepest strategy gets in Hellemental.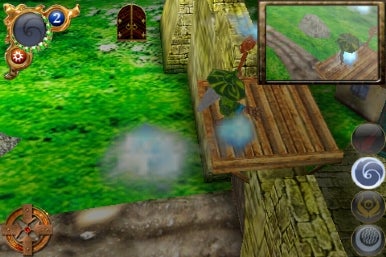 It is very disappointing to see how little variety this game has to offer as the constant tapping on enemies gets stale very quickly. The letdown is all the greater because the developers seem to have put a lot of love into this title; the detailed characters and environments built with the Unity 3D engine look stunning and the background story is plentiful and funny. But don't let the Warcraft III-esq graphics fool you—this is a very shallow game. The sixteen levels offer nothing to keep the gamer intrigued, and the game lacks a multiplayer feature.
Hellemental is not the tower defense revolution. It is a well polished title that has everything going for it except good gameplay. It is certainly not worth the $2.99 price tag, but I do hope they re-tool this great-looking title and deliver a fun game in the future.
[Dan Waingarten is a frequent contributor to Macworld's Game Room]