Have you ever wondered if you have what it takes to be—wait for it—a valet? Well, thanks to Valet Hustle, you can finally live that dream. Test your parking skills and peed in this $1 Diner-Dash-esque app by Factory Games.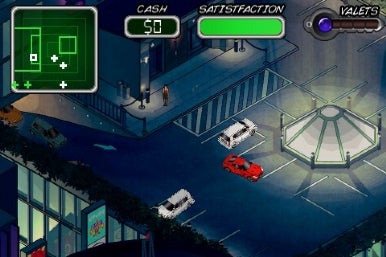 Valet Hustle is quite possibly one of the most addictive games I've ever played on the iPhone. The premise is basic—it's a cross between Tetris and Diner Dash in which you have to park cars and then return them to their owners in a timely fashion. You play the role of either Ren or Akira, a Japanese teenager who has been expelled from school and roped into valet-ing for their father's restaurant and later, his business associates in the US.
Gameplay is simple. As customers roll up, simply tap on their car and tap on a space to park it. As customers exit, their respective cars must be served up on a first-come, first-serve basis. But don't worry, you don't have to remember whose car is whose—numbers will appear over each car in the order they must be returned. As the lot gets more crowded, the game gets more difficult—after all, cars cannot move along the same path at the same time, and thus end up getting stuck if you're not careful. If you're slow in returning a car or parking a new one, you'll lose points in your satisfaction meter. If it runs out, it's game over. Of course, if you do well, you'll earn valets who will park or return cars for you—very handy when things get busy.
The environments are all pretty similar—each mission is set in a parking lot adjoining a high-end nightclub or restaurant. There is a quick tutorial to get you adjusted to the game and further updates on the game's plot throughout the beginning parts of each mission.
Overall, Valet Hustle was delightfully addictive—solving the puzzle of where to park each car for the most efficient service kept me coming back. The only issue I found with the game was that, occasionally, two cars would get stuck in one place and I'd be unable to separate them—which meant I had to restart the level. Aside from this little bug, the game ran smoothly on my iPhone 3G.
The game also has a social message (the main characters are gay and lesbian—part of the reason they get expelled at the beginning), but this element is only played out in the anime-style cutscenes between missions. The six levels of gameplay will take you from the streets of Tokyo to the nightclubs of New York. While not the deepest game on the market, Valet Hustle is plenty challenging and gives you a different spin on the Diner Dash formula.
[Sarah Jacobsson is a frequent contributor to Macworld.]