There are a lot of great camera apps for the iPhone, and most of them work the same general way. The app replicates the feel of the built-in camera app, allowing you to either make adjustments to an existing photo or take a new image from within the app. Hipstamatic by Synthetic takes a much different approach, with great results.
From the minute you launch Hipstamatic, you can tell this is a different kind of camera app. The display immediately rotates to landscape mode, and suddenly your iPhone is transformed into a small toy camera. The entire iPhone display is made to look like the back of a camera, complete with a variety of virtual textures.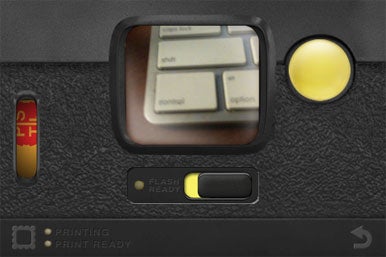 A square viewfinder window falls in the middle of the screen, with a shutter release button to the right of it. A flash slide—like the kind you'd find on an old analog camera—sits beneath the viewfinder. You slide and hold the switch, the flash "warms up," and the yellow light turns green, indicating the flash is ready. On the far left side of the display, a narrow film window allows you to see what type of virtual film is being used.
The variety of camera components—film, lenses, and flashes—that exist within Hipstamatic is where things really start to get fun. You can select different combinations of these components, giving your image an assortment of looks.
Hipstamatic's screen features a small arrow that allows you to spin around your virtual camera so that you are looking at the front view. From here, you can swipe left to right on the lens to change it, or tap the film or flash buttons to choose which will be used. Clicking on the lens, film, or flash pulls up a menu that has a sample photo and description. One film type may give an aged grainy look, while another lens may simulate the look of a plastic Holga with light bleeding and more.
Hipstamatic comes with a small selection of lenses, films, and flashes to choose from, but it also takes advantage of in-app purchasing, allowing you to buy "Hipstapaks" that contain additional lenses, films, and flashes that each add their own unique look to the photos.
It should be noted that all photos are taken as 1:1 square images. This makes the film selection a lot of fun, as each one has a unique border. The results that Hipstamatic produces lean toward the dramatic side, but you quickly learn what to expect and adjust accordingly.
Hipstamatic goes beyond most photo apps, making you forget that you're holding a camera-equipped phone in your hand. Once you launch the app, you feel like you're playing with a new camera. The layout, design, and attention to detail in this app are some of the nicest that I've seen. Synthetic clearly spent a lot of time creating a unique app that doesn't just produce nice results—it's engaging and fun to use before you ever see the finished product.
[Macworld Contributor Beau Colburn lives in Boston and posts iPhone photos on his site Snap different.]