Jerome York, a member of Apple's board of directors, has passed away. York had been hospitalized Wednesday after suffering a brain aneurysm.
Apple announced York's death in a statement on its Website.
York, a member of Apple's board of directors for 13 years, also served as the chairman, president, and CEO of Harwinton Capital.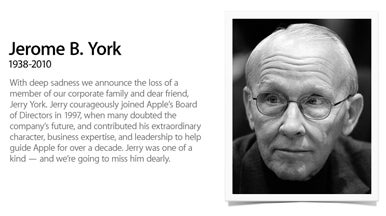 "Jerry joined Apple's Board in 1997 when most doubted the company's future," Apple CEO Steve Jobs said in a statement released by the company. "He has been a pillar of financial and business expertise and insight on our Board for over a dozen years. It's been a privilege to know and work with Jerry, and I'm going to miss him a lot."
Born in 1938, York studied as an engineer. Early in his career, he worked for General Motors, and later for Ford. Over the course of 14 years with Chrysler, he eventually rose through the ranks to the position of CFO. After leaving the automotive industry, in 1993 York was hired by IBM as CFO and joined its Board of Directors.
According to Apple, York "is widely acknowledged for his contributions at Chrysler and IBM during their turnarounds."