At a Glance
Expert's Rating
Pros
Found obscure music
Simple interface
Clever concept
Cons
Some connectivity issues
Tendency to get bogged down by large collections
Our Verdict
Do you have unidentified tracks, mislabeled albums, or missing artwork in your iTunes library? If so, TuneUp Media's TuneUp might be able to help. TuneUp is a an iTunes add-on that cleans up your iTunes library by identifying and filling in missing information. As the company puts it, the software "listens intelligently to your tracks by analyzing the audio waveforms and using characteristics like beats per minute (tempo), frequency range, average power in each frequency band (spectral flatness), and acoustic resonances to fix your metadata." Thanks to its Gracenote MusicID recognition technology—the same music identifying technology behind Shazam—TuneUp can clear up those mysterious unlabeled tracks in your library, fix the incorrectly labeled ones, and even find the album art you never had. The result is a much more robust, complete, and professional looking iTunes collection.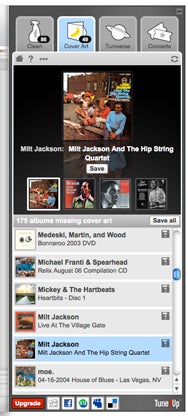 TuneUp comes in three flavors: a free TuneUp Lite version that can clean up 100 songs and find 50 album covers, a $20 TuneUp Annual version that provides a year of song clean-ups and cover art on one computer, and a $30 TuneUp Gold version that includes a lifetime license for a single computer. In my collection of 20,000 obscure punk, ska, and rock tunes, I found more than 1000 songs that had basic information missing such as song title and album.
TuneUp appears as a mildly garish window tacked onto iTunes. Its four tabs offer a lot of information, and the Clean tab is really TuneUp's bread and butter. You drag and drop the songs you want cleaned and you watch as TuneUp attempts to identify the songs and album of each artist. Your songs are organized by album and even show the track order and the other tracks in the album (in case you're missing any). On average, it took only a couple seconds to identify each song and mere minutes to identify the 400 songs I placed in the queue. TuneUp rates how confident it is in each find—confident matches, likely matches, unknown, and so on. TuneUp didn't catch everything, but I was surprised what it did catch. I have an obscure bootleg from a punk ska band that the software was able to identify. However, it couldn't identify a fairly common Unwritten Law song I wanted cleaned. It also was able to identify certain songs from a Japanese import album I had, but not others from the same album. And occasionally, the software would find duplicate album entries in the database, effectively splitting an album's contents between two identical albums.Of my 2000 or so songs that had missing information, I'd say only about 10 percent were not identified by TuneUp. Not perfect, but still pretty impressive.
The Cover Art tab identifies the album art for the song you're listening to, and if you're missing it, can download it for you. If you want to update your entire library with the cover art, be warned, the process is long and arduous. Some images didn't load correctly and I had to manually select a different image. When I tried to load 20 covers at a time, the ones TuneUp couldn't process lingered distractingly and there was no way to clear them. There were also some duplicate album covers (the same cover art for the same album three times, for example), but album art results were pretty comprehensive—a testament to the depth of Gracenote's database.
TuneUp recommends you look for album art or clean songs in relatively small groups, and it's easy to see why: the add-on tends to get overwhelmed. Though it's a pain to look up only 20 covers or 50 songs at a time, it was much more efficient than throwing my entire collection at it at once. During my testing, I was repeatedly informed that the database wasn't available because I wasn't connected to the Internet (when, of course, I was).
There are two other tabs in the app. The Tuniverse tab has links to Twitter so you can tweet about your music, YouTube clips related to the artist you're listening to, a bio of the artist, and more. And the Concerts tab that acts like iConcertCal and other concert search add-ons: it searches your music for concerts in your area and lists them for you chronologically. It's not as comprehensive as iConcertCal in that it doesn't have album releases as well, but it has links to StubHub and the prices for the tickets there—a nice idea, but I wish it included links to Ticketmaster and other direct ticket sites.
Macworld's buying advice
TuneUp's software is simple, comprehensive, and effective, but can get overwhelmed with large collections and has a few rough edges. The company's blog, however, keeps you updated on the various features of the product, and the handy walkthroughs make it pretty easy to use TuneUp. If you have a small music collection, the free version might be all you need. But if you have a music collection that's even remotely like mine, think of the free version as a demo to see if the software is worth the upgrade.