When visiting theme parks, waiting is a big part of your day. This is no different at Disneyland, where you spend the majority of your day waiting in long lines for restaurants and attractions—which can make you wonder at times if Disneyland is truly the "Happiest Place on Earth." MouseWait allows you to view current wait times at Disneyland and California Adventure, and also provides a plethora of additional information and tips to users.
MouseWait also encourages users to interact socially with other users. It has live chat support, where you can ask questions and others can respond. You can also link to Facebook accounts, or use a built-in Twitter search for nearby Disney-related tweets.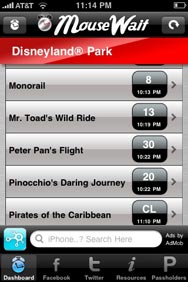 Wait time data can be entered by any MouseWait user. Wait times reported by the application give you a general idea how long the lines are for your favorite attractions throughout the resort. This was extremely useful because the wait times were normally pretty accurate. It is also extremely useful to check current wait times at the resort before you arrive, to plan your visit accordingly.
MouseWait provides all information needed for a visit to the Disneyland Resort, all in one convenient app. It was extremely helpful to have current weather for the city of Anaheim, operating hours for the resort, and even useful notifications within the app when important information changes occurred. For example, MouseWait notified our party that Disneyland was closing early for the evening due to inclement weather before the announcement was actually made to Disneyland guests.
Users can also view restaurant menus for all the different dining locations throughout the resort. In addition, Annual Passholders can also access a convenient calendar of blackout dates to accurately plan ahead. Passholders can even view a list of locations in the resort, where they can use their annual pass for discounts on merchandise locations and restaurants.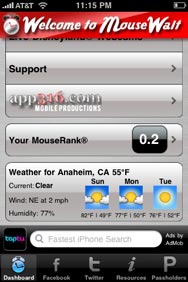 MouseWait provides a wealth of information for both casual and frequent visitors to the Disneyland Resort. It does exactly what it claims and more, and it does it extremely well. If you have plans to visit the Disneyland Resort in the future, or are an Annual Passholder, this app is an absolute must.
[Danny Amezcua is a freelance writer.]