Today's hint is very simple, but one that, after searching through the Macworld archives, I realized we've never explicitly covered—and one that has come in handy for me on more than one occasion recently.
I recently helped someone with a Time Machine issue: the person had upgraded to a new, larger hard drive for Time Machine, but hadn't migrated his existing Time Machine backups to the new drive (a situation that's likely quite common, given that Apple doesn't provide a simple way to transfer your existing backups to a newer drive). He found himself needing to recover some files that had been backed up to his old Time Machine drive, but whenever he entered Time Machine's interface for restoring files, he could access only those files backed up to the new Time Machine drive. How could he dig into his old backups to find the files?
If he had some time on his hands, he could have connected the old drive and manually browsed the Backups.backupdb folder, inside which reside the many "snapshot" backups of his computer. But that's messy; he wanted to use the familiar Time Machine interface.
The solution is to use Time Machine's non-obvious feature for browsing alternate Time Machine drives. If you've still got the Time Machine application in your Dock, just right-click (or click-and-hold) its icon; from the resulting Dock menu, choose Browse Other Time Machine Disks.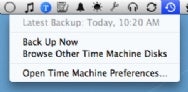 If you don't have Time Machine in the Dock—it's one of the first things I remove when setting up a new Mac—you can access this command using the Time Machine menu on the right-hand side of the menu bar. Instead of clicking the menu, Option-click it: the Enter Time Machine command changes to Browse Other Time Machine Disks. (I covered this Option-menu trick back when Mac OS X 10.5.2 was released, but we've never covered actually using the command.)
Whichever method you use, you'll see a dialog that reads, "These disks contain Time Machine backups. Choose the disk you want to use with Time Machine." From the list of Time Machine drives, choose the one you want to browse. Time Machine will open using that drive, displaying the list of drives backed up to it. You'll have to manually navigate to the folder containing the files you want to restore, but once you're in that folder, you can browse your backups using the standard Time Machine interface, and restore files, as well.
This tip can also come in handy if you've previously backed up to a disk image; you can access the contents of that backup by mounting the image in the Finder and then using the Browse Other Time Machine Disks command. You can similarly use it to browse the contents of another Mac's Time Machine drive; for example, a drive used to back up another computer in your house, or a drive containing Time Machine backups of an older Mac you no longer have.