Pocket Informant, a $10 productivity tool from Web Information Solutions, is a beast of an iPhone app—and I mean that in a good way. It's a dense, feature-rich life management suite that aims to replace the iPhone's built-in calendar and serve as a task/to-do list manager, too. A free lite version with fewer features is available if you're not willing to part with the sawbuck.
If the iPhone isn't your first smartphone, you may have encountered Pocket Informant on a Windows Mobile device. While other versions of the app could be considered true personal information managers (PIMs), the iPhone version doesn't quite merit that label in my view. That's because unlike on other platforms, the iPhone version of Pocket Informant doesn't include notes functionality or an address book. What the app does offer, though, is impressive in scope.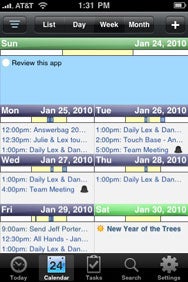 Pocket Informant's calendar can sync over the Internet with Google Calendar, or with Outlook. Outlook syncing requires a desktop utility for Windows XP and Windows 7 and is still in beta; it will eventually require a one-time fee of $5. As a Google Calendar and Mac user, I didn't test Pocket Informant with Outlook.
The Google sync capability, though, works quite well. Pocket Informant syncs your calendar, as well as any shared calendars to which you subscribe. The paid version of the app can pull as much of your Google Calendar data as you'd like, while the free version limits itself to events coming up in the next week. (Note that any tasks you have in your calendar at Google will not sync.)
Pocket Informant's calendar presentation is decidedly different from both the iPhone's built-in app and Google Calendar's Web view. A clever time bar highlights the times you are and aren't available any given day. Week and month views pack in a ton of data in very little space—although sometimes tapping right where you want can get a bit tricky.
Unfortunately, different isn't always better: I find the app's calendar presentations rather unattractive. I eventually got used to swiping (instead of tapping a button) to get to the next day, week, or month, but the hodgepodge of colors and sizes in Pocket Informant really didn't work for me.
Perhaps Pocket Informant's best calendar presentation advantage, however is the unique Today view, which lists not just your appointments for the day, but any current task list items as well. The iPhone lacks both a built-in to-do list app and a day-at-a-glance presentation. Pocket Informant's Today screen combines each key feature, and it works well.
All of the app's task management features, in fact, are well-implemented. Whether you're a GTD devotee, a Franklin Covey aficionado, or just someone with a lot to do, you'll appreciate the depth of Pocket Informant's task management. You can classify tasks by projects and contexts, tag them, star them, set their importance, identify their current statuses, set due dates, add recurrence, and schedule alarms. And if you're a Toodledo user (but don't use that company's own iPhone app), you can sync your Pocket Informant tasks with that service.
Overall, I'm torn. I don't find that Pocket Informant's extra calendaring tools that helpful for may day-to-day needs—with the possible exception of having single-tap access to a screen that lets me jump to any date (which Apple's default calendar app desperately needs). The to-do list functionality, on the other hand, is very robust and smartly implemented. Given that this is a pricier app in today's App Store economics, I'd certainly recommend trying the lite version of the app first to see if it works for you.
Even ignoring most of the calendar app's own functionality and just relying on the task management features, though, I'm comfortable recommending Pocket Informant to anyone looking to get better organized.
[Macworld contributor Lex Friedman has a very busy calendar these days.]