At a Glance
Expert's Rating
Pros
Very comfortable to hold and use
Nice social networking and multimedia features
Cons
No full QWERTY keyboard
Some screen stutter during menu scrolling
Our Verdict
March MotoBlur madness is upon us: The Cliq XT is Motorola's third MotoBlur phone to touch down on a carrier this month, along with the Backflip and the Devour ( ). The Cliq XT is the only MotoBlur phone that lacks a full QWERTY keyboard. Though I missed having a physical keyboard, the Cliq XT made up for its absence with the full-featured Connected Music Player, which combines a handful of excellent music services in a single seamless interface.
The Cliq XT's drab gray and chrome color scheme doesn't make it the most eye-catching phone on the block, but it is very comfortable to hold, thanks to a slim, light body; rounded corners; and a textured rubber back. Measuring 2.3 by 4.6 by 0.5 inches and weighing just 4.6 ounces, the Cliq XT is certainly the most pocketable of the MotoBlur phones (chiefly because it lacks a QWERTY keyboard).
The 3.1-inch display is a bit small by today's smartphone standards, though it matches the size (and at 320 by 480 pixels, the resolution) of the other MotoBlur phones' screens. Colors looked bright and accurate, but the display falls short of those on top smartphones such as the Droid ( ). Unfortunately, the device's responsiveness was hit-or-miss. Tapping on an icon usually prompted immediate action, but scrolling was a bit sticky. In long lists, such as my contacts and my media files, the screen sometimes stuttered.
Motorola has been experimenting with different styles of navigational controls on its MotoBlur phones. The Backflip uses a behind-the-display touchpad. With the Devour, you get a small optical mouse oddly located in the lower left corner. But the Cliq XT has the best control arrangement of the three: a large, centrally located touchpad. You can use this touchpad to flip through multiple homepages or to navigate within a homepage. I found the touchpad responsive overall, and I liked how easy it was to use with one hand.
The handset's four standard Android hardware buttons (Menu, Search, Home, and Back) lie below the display. Occupying the left spine are a microUSB port and a tactile volume rocker. On the right, you'll find a Power/Lock button and a dedicated camera key. A standard 3.5-mm headphone jack sits at the top of the Cliq XT.
I'm usually not a fan of Android phones that lack physical keyboards, because the native Android keyboard isn't especially user-friendly. But Motorola tweaked the Cliq XT's keyboard, spacing the keys out and making them a bit wider for easier, more-accurate pressing. In addition, haptic feedback helps make the keyboard feel more natural in your hand. You also get a nice visual confirmation of your keystrokes via magnified versions of the letters that you press (as with the iPhone's keyboard). My one gripe is that the keyboard felt a bit slow, introducing a slight delay between when I typed and when it appeared on the display.
The Cliq XT's keyboard uses Swype, a feature that is quickly taking over full touchscreen phones. Using Swype requires a bit of practice; but once you get the hang of it, it's a useful alternative to tap typing. Swype technology lets you type faster and more easily with a continuous finger or stylus motion across the screen keyboard.
MotoBlur simplifies social networking
I've explained the ins and outs of MotoBlur extensively in my reviews of the Cliq ( ) and the Devour so I'll only summarize the main points here. Like its brother, the Cliq XT runs Android 1.5 (the Devour, on the other hand, runs 1.6) with MotoBlur running over that.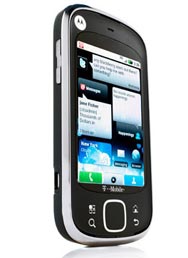 MotoBlur essentially aggregates all of your social networks and delivers them within a seamless interface. It supports contact syncing across social networks, a unified inbox for your various e-mail accounts, and live widgets for social networking. Another cool feature is its ability to track your phone via assisted GPS if the device gets lost. You can wipe it remotely, and all of your information will be saved on the MotoBlur's servers.
Aesthetically, MotoBlur feels a bit cluttered. Icons and font don't have the pop or the prettiness of the iPhone OS or WebOS alternatives. But if you're an avid social networker and you find the out-of-box Android interface a bit uninspiring (as many people do), MotoBlur makes a solid alternative.
Like all Android phones, the Cliq XT gives you access to the many useful Google applications (Gmail, Google Maps with Navigation, YouTube, Google Search, and so on). You can set up and sync your Yahoo account with the device and get full Outlook sync support, too.
The Android browser supports Flash Lite, enabling you to view certain video content and Websites that likewise support that content. Full Flash Player 10.1 for Android is coming later this year.
Connected Music Player rocks
Found only on the Cliq XT, the Connected Music Player (a hybrid of popular music applications) is something I'd like to see become a feature of all MotoBlur phones. Bored with your own music collection? Tune into Shoutcast radio or Last.FM. Looking for videos? Find them on GoTV or YouTube. The Connected music player also has TuneWiki, which gives you access to song lyrics, a community of like-minded listeners, and Top 10 charts. And you get Soundhound, a name-that-tune sort of program that can identify an artist and song from a hummed rendition of the music. And like all Android phones, the Cliq XT lets you shop for new music via the Amazon MP3 store. Sound quality through my own earbuds was good, though a bit hollow. Audio piped through the external speakers, though weaker, was still listenable.
Good but slow camera
Following my disappointment with the Devour's mediocre camera, I was pleased to see that the Cliq XT has both a 5-megapixel camera (slowly becoming the norm for midlevel to high-level smartphones) and a flash. Overall, I was pleased with image quality both indoors and out. On my indoor shots, the flash highlighted details and color without blowing them out. Outdoor shots looked even better. Unfortunately, the camera did suffer from slow shutter speed. Taking pictures of my fast-moving cat was a frustrating experience because I could never quite capture the shot I wanted.
The camera captures video at 24 frames per second. The output, though slightly fuzzier than video from the iPhone 3GS (captured at 30 fps), was good enough for posting on YouTube. Android and MotoBlur simplify sharing your video or photos with you social networks or uploading them directly to Picasa or YouTube.
Average performance
Call quality was a bit spotty over T-Mobile's 3G network. On a few of my calls from my office in San Francisco, I heard faint static, and voices sounded a bit tinny and distant. Motorola phones generally have excellent call quality and I have rarely had issues with T-Mobile's service, so I was surprised. Callers on the other end of the line, however, reported that my voice sounded clear and natural and said that they heard no background noise. I called from another area of San Francisco and didn't hear the static, but voices still sounded faint.
The Cliq XT handled Web browsing without a hitch. Media-heavy pages loaded quickly over 3G as well as via Wi-Fi.
If you're interested in hopping on the Android wave, but don't want to burn a hole through your wallet, the XT is a solid choice. I do wish that the display were larger and the performance were snappier, but you'll get a lot of great features for the money.
[Ginny Mies is an assistant editor for PCWorld.]