At one time browsing the iTunes (Music) Store was like visiting a local music shop—pop and rock in the front racks and middle aisles, jazz to the left, classical in the back, and indy releases shuttled off to the side room where you could also purchase bongs and dashikis. But when the Store expanded and dropped Music from its name, it also lost some of its ease-of-use. With not only music but also movies, TV shows, audiobooks, podcasts, lectures, games, and iPod and iPhone applications on offer, it's become more difficult to find the content you're after. These tips should help you find more of the content you like.
1. Be on the alert
If you follow a particular artist, you may be interested in that artist's new works. iTunes can help with its alerts. Just go to any album or artist page and look for the Alert Me link. Click it and that artist is added to your My Alerts page, which you can access by clicking on the My Alerts link found on the upper-right side of the Store's Home page. On your My Alerts page you'll find albums and music videos from artists you've added when new material comes out. On the Manage My Alerts page, you'll also find a Send Me Email Alerts About Artists I've Previously Downloaded option. Select it and you'll receive more alerts based on… well, you know. With that option enabled you should also see some movie entries on the page if you've downloaded movies from the Store.
2. Use Power Search
Choose Search from iTunes' Store menu and you're taken to the Store's Power Search page where you can perform a search far more exacting than when using iTunes' standard Search field. From the Power Search pop-up menu you can select Music, Movies, TV Shows, App Store, Audiobooks, Podcasts, or iTunes U. The search fields to its right change depending on the kind of media you've chosen. For instance, choose Movies and you find Movie Title, Actor, Director/Producer, Year, and Description fields. From pop-up menus you can also pick genres and ratings. And checkbox options below let you search for only movies you can rent, and for those that contain closed captions.
Let's suppose that you're in the mood for a classic drama with a hint of intrigue and romance. You can get there by entering "Bogart Bacall" in the actor field with a result that provides links to Key Largo and The Big Sleep . On that same page, you'll find links to associated actors (Edward G. Robinson and Claire Trevor, for example) as well as directors (John Huston, in this case).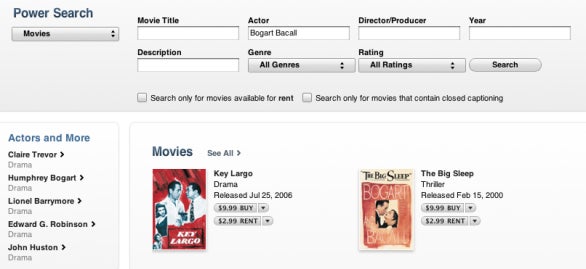 Or you could find all 79 versions of "Scotch and Soda" by choosing Music and then entering that title in the Song field. Or find just the two vocal jazz-standard versions by choosing Vocal from the Genre pop-up menu.
3. Use iTunes Preview
Late in 2009, Apple created iTunes Preview, a way to view some of the Store's content from within a Web browser. This is helpful not only for those people who don't have a copy of iTunes installed on their computers, but the Web interface can be cleaner than that within the actual Store. For example, check out the iTunes Charts page. Here you can quickly view the Store's top songs, albums, TV episodes, movies, movie rentals, and music videos. (You see the top 100 of each of these media types except music videos. I saw just 92 music videos when I clicked the Music Videos link.) When you click on a song or album and iTunes is present, it opens and takes you to the page associated with that song or album. Your Web browser will also display a page that contains information about that item, including reviews and ratings. Click on a movie, TV episode, or music video, and you see some information about it in your Web browser along with a View In iTunes link. Click that link and iTunes opens and displays the item's page.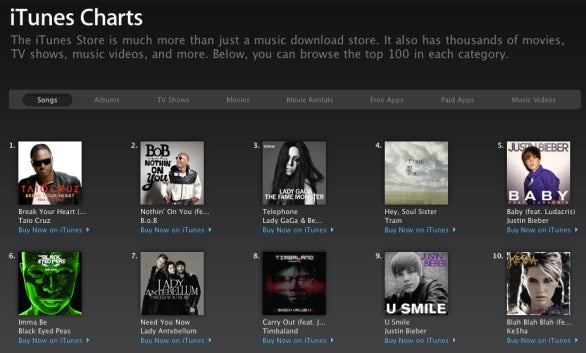 You can also use iTunes Preview to locate music, iPhone apps, and podcasts via genre listings. This page, which displays Music, App Store, and Podcasts headings, lets you use links such as Alternative, Blues, Classical, Jazz, and Rock on the Music page to search for the content you're after. Click an artist you like— Led Zeppelin, for example—and you'll see a short biography, top albums, top songs, influencers, followers, and contemporaries. You can preview top songs within your Web browser—no need to move to iTunes. If you want to open iTunes and view the content there, just click the View In iTunes link.
4. Create "bookmarks"
You can drag any link in the Store to the Desktop, where it turns into a Web Internet Location file. If this is a link to a file compatible with iTunes Preview, double-clicking it opens the corresponding page in iTunes Preview as well as in iTunes. If it's related to video—a movie, movie genre, TV show, or TV show genre—iTunes will open to the corresponding page.
You can create a collection of these files and add them to your browser's bookmarks. When you're in the mood to explore your favorite areas of the Store, just select one of these bookmarks in your browser.
5. Use the Genius (sometimes)

The Genius feature introduced with iTunes 8 can be a useful way to find media that you'll like based on the contents of your iTunes library—depending on the kind of media you've selected. After submitting your Genius information to Apple (choose Store -> Turn On Genius if you haven't enabled Genius yet), select a track, and take a gander at the Genius sidebar on the right side of the iTunes window. With the mountains of information Apple has gathered via Genius over the years, you're sure to find some selections that float your musical boat. You can also preview selections directly in the Genius sidebar.
You'll have less luck when you select a movie. iTunes can only make recommendations based on movies you've purchased from the Store, so if you have movies obtained elsewhere, Genius does you no good. And because the Store's movie selection is limited, Genius doesn't have a lot to work with. For example, I selected It's a Wonderful Life —a heartwarming family film that I purchased from the Store last year—in the hope that I'd be presented with other classic films suitable for my kith and kin. Genius recommended The Godfather and The Godfather: Part II in, what I suppose, was a very liberal interpretation of the word family.
6. Check out Genius Just For You
Before there was Genius, there was iTunes' Just For You recommendations. Unlike the recommendations you find in the Genius sidebar, you can vote these recommendations up or down, just as you can with TiVo recommendations and music that flows through the Pandora music service. In addition, on your Just For You page you'll find a playlist of 15 songs recommended for you. Generally, the recommendations Just For You makes are pretty broad.
Just For You once recommended only music, but it will now also recommend movies and TV shows.