I've been reading Shakespeare since my high school English teacher first shoved a copy of Julius Caesar into my hands two-plus decades ago. And while I enjoy a good comedy, tragedy, or history as much as the next guy, I willingly make the following confession: There are passages where I have a hard time making heads or tails of what the Bard of Stratford-Upon-Avon is going on about.
It's not because I'm particularly dim—honest—but rather because Shakespeare wrote his plays in the language of his era. And as evocative as words and phrases like "Jack-a-Lent," "canker-blossom," and "kickshaw" might have been around the turn of the century—the 17th century, that is—they don't tend to come up in conversation these days. And that can make it hard to follow along when Mark Antony is giving Brutus, Claudius, and the rest of the gang what-for.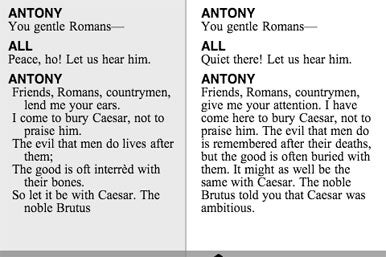 In fact, when I reviewed Readdle's free Shakespeare, one of my criticisms of this otherwise solid app was that it didn't contain any footnotes in its collection of Shakespeare's plays, poems, and sonnets. So if you wanted to squeeze in some Twelfth Night in between your Twittering or check in on Macbeth after checking your mail, you had to do so without any help in navigating the occasionally obscure turn of phrase.
Two new apps look to make the works Shakespeare as accessible as they are mobile. No Fear Shakespeare from Sparknotes and Readdle's follow-up app, Shakespeare Pro, take very different approaches to demystifying the Bard and deliver with varying degrees of success.
No Fear Shakespeare feels like it's aimed at high school students who've just been handed a copy of Julius Caesar by that well-meaning English teacher. Running only in landscape mode, the app offers split-screen Shakespeare—the original text of the plays runs on the left of the screen while a version adapted for modern audiences appears on the right. So in Act I, scene 2 of Julius Caesar, when Cassius reminds us that, "The fault, dear Brutus, is not in our stars but in ourselves, that we are underlings," No Fear Shakespeare helpfully translates that as "It is not destiny's fault, but our own faults, that we're slaves." A bit more prosaic, certainly, and probably an interpretation that will make purists cringe, but if you're a student just trying to get a grip on what the characters are saying, it gets the job done.
There are limits, of course, to No Fear Shakespeare's helpfulness. The app is entirely focused on helping you untangle a play's plot. (To that end, there's even a plot summary section at the beginning of each play.) Any assistance with addressing themes, spotting symbolism, or anything beyond who's saying what to whom is out of this app's jurisdiction.
Some of the modern-day translations in No Fear Shakespeare are equally limited. Take Act I, scene 1 of Julius Caesar, in which Murellus demands to know the trade of a commoner and is told, "I am, but, as you would say, a cobbler." No Fear Shakespeare translates that as "you might call me a mere cobbler," but the word has a double-meaning—"cobbler" also means, in this context, "bungler," and it triggers an Abbott-and-Costello-esque exchange between Murellus and the commoner that injects some levity into an otherwise grim tragedy about ambition and betrayal. No Fear Shakespeare readers will miss that double-meaning. In this instance, more context in the form of a footnote would have helped. (One of the screenshots on No Fear Shakespeare's App Store page shows a footnote feature, but I never came across any while thumbing my way through Julius Caesar.)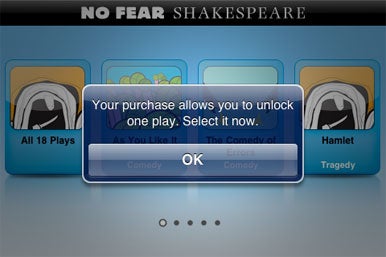 The app is relatively easy to navigate—a flick to the left or right turns the page. Personally, I would have preferred to scroll downward to advance through a scene, as I think it would fit in better with No Fear Shakespeare's side-by-side layout. Often, the modern-day translation is much shorter than the original text, so Mark Antony will continue to bury Caesar, not to praise him on one page, while the No Fear Shakespeare translation will have wrapped up on the preceding page.
No Fear Shakespeare gives you the option of removing the split-screen view to look at only the original text or the translation. But because the app retains the page breaks of the split-screen view even when you're just looking at one version, you wind up with a lot of empty screen space. Perhaps when the iPad and its much larger screen arrives, Sparknotes will be motivated to come out with a version of No Fear Shakespeare that uses the extra real estate to much better effect. But we're not living in an iPad world just yet.
There seems to be some confusion as to what you get for the $5 cost of No Fear Shakespeare, a misunderstanding perpetuated by some of the more lunkheaded amateur reviewers in the App Store. Buying the app gives you the right to download one of 18 Shakespearian plays. (The app includes the first scene of all those plays, along with historical facts about the play, a plot summary, and a list of characters so that get a sense of what you're downloading.) If you would like to add more than the one play you get with the app, it's a $5 in-app purchase; you can download all 18 plays for $20. (And yes, 18 is far fewer than the number of plays Shakespeare actually wrote, even if you don't count dubious offerings like The Two Noble Kinsmen and Edward III. No Fear Shakespeare looks like it's focusing on the plays most high school students are likely to get assigned, and unless you're attending a school where Timon of Athens heads the reading list, the app should have you covered.) To me, the in-app purchase model seems like a perfectly sensible approach, given that the app is aimed not at Shakespeare scholars but—let's be honest, here—one-and-done students who would otherwise turn to Baz Luhrmann's over-rated trifle to make sense of Romeo & Juliet. Treat any App Store reviewer who complains that No Fear Shakespeare is a rip-off the way the howling mob of plebeians treats Cinna the Poet.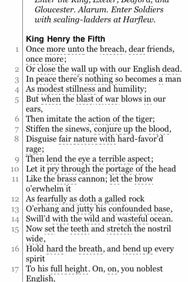 Shakespeare Pro targets a decidedly different audience. With 154 sonnets, six poems, and every play Shakespeare wrote (plus a few he likely didn't), this is an app for people who love the Bard and want everything he ever wrote accessible from their iPhone or iPod touch. The pro version of Readdle's app offers all the virtues of the free Shakespeare offering, while correcting many of its vices.
For instance, in my review of the original Shakespeare, I complained that the app didn't offer line numbers—you can turn those on and off in the Pro release. I griped that character names were shortened into often confusing abbreviations; again, a preference lets you see the full name. The names of characters are also better set apart from lines of dialogue in Shakespeare Pro, making for a better overall reading experience.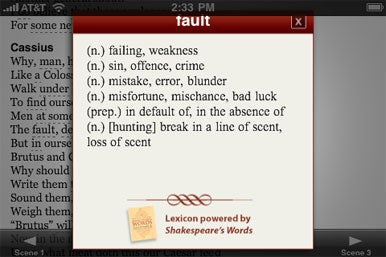 But the app's stand-out feature is a glossary that you can turn on and off from within each play. With the glossary enabled, certain words are underlined within the text of play; tap on the word, and a pop-up definition appears, so you can decipher what every bodkin, barricado, and bawcock means. The glossary isn't perfect—the definitions can be a little broad, and it's too easy to inadvertently tap on a word when all you're trying to do is navigate from one scene to the next. Also, the app's glossary tab could stand an A-to-Z navigation bar to save you from unnecessary scrolling. Still, Shakespeare Pro's glossary is a valuable component to an impressive app.
No Fear Shakespeare may help you make sense of a given play, but Readdle's Shakespeare Pro allows you to really enjoy the entirety of Shakespeare from the comfort of your mobile device.
[With the wife of the British ambassador, Macworld.com executive editor Philip Michaels tries a crack out of Troilus and Cressida.]