My Color, developed by Shintarou Kinoshita, is a simple eyedropper tool that allows you to select colors from images and save them.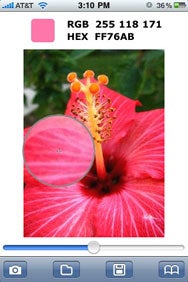 For images, you can either pick an existing photo or—if you've got an iPhone—take one with the built-in camera. Then, touch anywhere on the image to pinpoint a color.
When you touch the screen, a magnified circle appears so you can get a precise selection. The magnified circle is offset above your finger to make it easy to see exactly what you're pointing at. As you move around the image, My Color updates the color selection, which displays as a swatch as well as RGB and HEX numbers.
Once you've got the color you want, you can save it within the app for later use. My Color also allows you to adjust the brightness of images and save them to your photo library.
It would have been really cool to be able to select colors from Websites as well as photos.. Also, it would have been nice to be able to e-mail your saved colors. Still, My Color does exactly what it claims to do—make it easy to select colors from a picture and save their RBG and HEX numbers.
[Tim Mercer is a technology enthusiast, graphic designer, and blogger, whose blog, digital-artist-toolbox.com, offers free resources to the digital artist and graphic designer.]