Hillcrest Labs, known for its $100 Loop pointer—a four-button-plus-scroll-wheel wireless input device—has announced the release of its free Kylo browser. Based on Mozilla, Kylo is a Mac- and Windows-compatible streaming-media browser intended for the big screen—specifically HDTVs attached to a computer. Unlike media center applications such as Boxee, Plex, and XBMC—which play local as well as Web content—Kylo is solely for playing content delivered over the Internet.
Kylo is a living and breathing Web browser. You're welcome to enter any Web address into the browser's Address field—enter www.macworld.com and you'll be taken to this site, for example. But Kylo is designed so that you'll rarely have to enter text to visit your favorite media sites. On the Home screen you find 128 large buttons that, when clicked, lead you to such popular media sites as YouTube, Hulu, Netflix, Amazon Video, Pandora, ESPN, NBC, CBS, ABC, and Fox. You can see subsets of these buttons by choosing specific kinds of media from a series of tabs at the top of the screen. You can select All, TV, Movies, Music, News, Sports, Games, Original, Social, or Learning.
Clicking is what Kylo is all about. If you have a pointing device (Hillcrest would like you to think of its Loop pointer first, naturally, but any mouse will do) just click on a button and off you go to the site, which behaves exactly as it would in any other browser. If you choose to enter a Web address, just click on the Address field and a virtual keyboard appears, which you can use to click in the address of the site you'd like to visit. The keyboard also appears when you click on any text field found on a Web site. (The Address field and text fields will also accept input from a keyboard.)
The buttons and text are large enough that they can be easily read from the couch and clicked on. If you find the default layout of screen elements too small, you can click on a Pan and Zoom button, which causes controls to appear that let you increase or decrease the size of text and objects on a page. Additionally you'll find buttons that provide the basic controls you need to navigate the browser—Back, Next, Reload, Home (which takes you to the Home screen with all the media links), Bookmarks, and Search.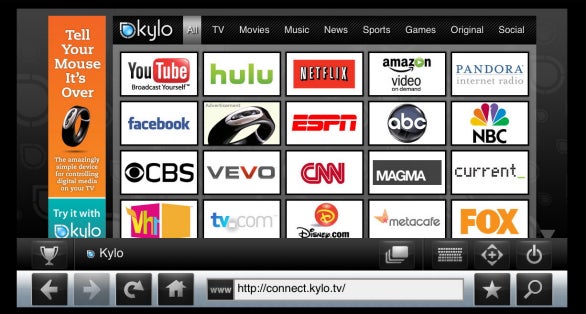 The latter two are worth detailing. When you click the Bookmarks button, a Bookmarks sheet appears. Within the sheet you see any bookmarks you've added in the form of a large preview thumbnail and the name of the page you've bookmarked. To add the page you're currently viewing, click the Make Bookmark button. Again, because Kylo is designed so that everything can be easily clicked, these thumbnails are quite large—depending on the size of your monitor you may see five to ten thumbnails at a time. Regrettably you can't add these bookmarks to the main screen.

And Kylo is fairly liberal when it comes to search engines. When you click the Search button you can choose to search via Google, Bing, Yahoo, or Truveo.

Because Kylo is a true Web browser you experience everything a Web browser delivers—both the good and not-so. On the Good side of the ledger, this means that, unlike with XBMC-based media center applications, you shouldn't need to worry about sites being incompatible with Kylo. After all, it's just another Mozilla-based browser and should be welcome. Should is the operative word here, however. As of the morning of March 22, Hulu no longer works with Kylo. When you attempt to play Hulu content a message appears that reads "Unfortunately, this video is not available on your platform. We apologize for any inconvenience." Given that Hulu videos played perfectly well just 10 hours earlier and nothing has changed other than the awareness of Kylo, there's the possibility that Hulu is now blocking the browser.
For those sites that don't block Kylo, you have the advantage that you can interact with all parts of a site—click links, log-in, and search the site's contents . The Not-so side is that you have to deal with the design each site offers. Boxee, Plex, and XBMC do their best to present you with just the media a site offers, free of any interface clutter.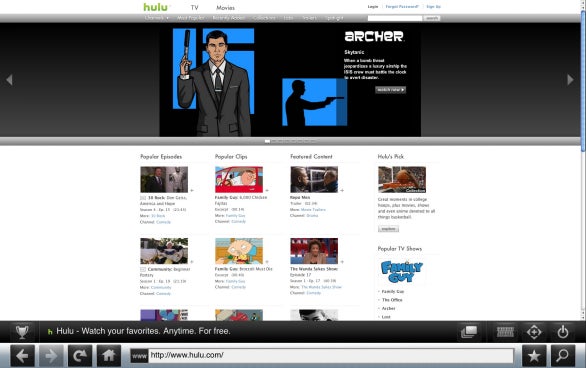 In the time I've had to play with Kylo I've been impressed by the experience. Sites load as quickly as they do in my other Web browsers and content plays as it should. I have a Loop pointer and have used it to navigate the interface and it's quite easy to get around. I'm not keen on clicking on virtual keyboards, but I've found that if I use Kylo for its intended purpose, I rarely have to enter text—the Home page contains a comprehensive collection of media sites.
Kylo is live and ready to do your bidding. If you have a Mac connected to your TV, or simply wish to more easily access this kind of content on your Mac's monitor, give Kylo a spin.
Updated 3/22/10 7:40AM to note that Hulu is no longer compatible with Kylo.