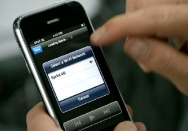 iPhone owners unhappy with AT&T's service now have a new—and unlikely—friend: Sprint.
As Engadget reports, Sprint's unveiled a new advertisement for its Overdrive Mobile Hotspot, and the ad stars the iPhone. The Overdrive, made by Sierra Wireless, is a dual-mode mobile hotspot that connects to Sprint's 3G network or, when available, its 4G WiMax network.
The ad in question (embedded below) promotes one man's ability to help his friend "Steve" with his iPhone, which the speaker acknowledges is "cool." The iPhone, he reports, is "limited to AT&T's 3G speeds." With the Overdrive, he can offer Steve 4G speeds—assuming they're located in one of the few dozen cities where Sprint actually offers the service, such as the surreal land of white boxes where the ad takes place.
In case the ad's iPhone fandom is too subtle for you, the man then literally takes a bite out of an apple as Steve connects his iPhone to the hotspot. Then again, if Sprint can't find a phone of its own worth showcasing in its own advertisements, it's unclear precisely who is taking a bite out of whom.