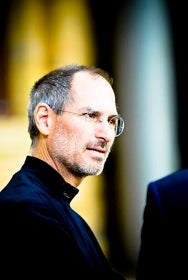 While Washington debated the merits of its proposed health care bill, Apple CEO Steve Jobs made a rare public appearance at a hospital in Palo Alto to champion his own cause: organ donation. Last year, Jobs received a liver transplant in Tennessee after taking a leave of absence from work for health reasons. On Friday, at a press conference held at Lucile Packard Children's Hospital, Jobs spoke in detail about his procedure and about California's proposed measure to help other residents on the state's waiting list.
"This coming week is my one year anniversary," Jobs said, smiling, to the crowd. The Mercury News covered and videotaped the conference (video embedded below), which focused on California Governor Arnold Schwarzenegger's new legislative proposal regarding the expansion of the donor list. The bill would require the state's Department of Motor Vehicles to add an additional field to its drivers license application regarding organ and tissue donation. Currently, the field—which asks applicants to select whether they would like to be a donor or not—is optional. In addition, it would create a "California Living Donor Registry" for kidney patients, matching them with people willing to donate a healthy kidney.
Jobs spoke briefly about his own experience on the transfer list, stating "there were simply not enough livers in California to go around, and my doctors here [at Stanford] advised me to enroll in a transplant program in Memphis, where the supply-demand ratio of livers is more favorable than it is in California." According to Jobs, more than 3400 people in the Golden State needed an organ transplant last year, but a mere 671 transplants took place, and 400 people died while waiting.
The Apple CEO, according to the governor, was "instrumental" in getting the bill put together. "Because [Jobs] is a wealthy man, that helped him get the transplant," said Governor Schwarzenegger. "But he doesn't want that—that only wealthy people can get the transplant and have a plane waiting to take him anywhere he needs to go… everyone ought to have the right to get a transplant immediately."
This isn't the first time Jobs has spoken of the importance of this cause. In September of last year, during his first public appearance following the procedure, he noted that he had been the recipient of a generous organ donation from a mid-20's person who died in a car crash, and urged the audience to become organ donors.
Read more…