As you may have noticed, it's a pretty big Internet out there. Searching all of it from the mobile version of Safari on your iPhone is doable, but not always as efficient as you might like. The App Store now includes several increasingly-competitive mobile search apps that aim to help you find what you're looking for a bit faster. I checked out two.
Dragon Search is very, very cool. The app, free from the folks at Nuance Communications who make the similarly-stunning Dragon Dictation app, emulates the hippest feature in the Google Mobile App for the iPhone: the ability to search with your voice. Tap a button and start talking; a few seconds later, you'll see your search results.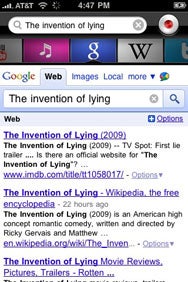 Dragon Search shows results from Google, Wikipedia, Twitter, YouTube, and the iTunes Store, all on separate tabs. The implementation is truly brilliant—while you're scrolling through your Google results, Dragon Search secretly loads results from Wikipedia, Twitter, and the rest in the background. So when you switch between the very slick tabs, the other results are already there, waiting for you. It's awesome. (I do wish Dragon Search would borrow Google Mobile's proximity-sensor trick, which listens for your search term simply when you bring the iPhone to your ear.)
I found that Dragon search didn't recognize some proper nouns all that well (cough, vanity search for "Lex Friedman," cough). But for other searches, including product names like TiVo, the app recognized what I said with tremendous accuracy.
Some iTunes Store reviewers mention that they've used Dragon Search to replace Safari altogether. I don't quite see how you could do that; you miss out on separate browsing tabs, bookmarks, the "tap on the time bar to jump up to the top of the page" feature, and there's no immediate way to go to a specific URL. But in spite of all those limitations, Dragon Search is a compelling and elegant search front-end, and a great Safari companion.
ACTRocket, comparatively, comes up a bit short. The $1 app from Houdah Software offers quick access to search many sites, but fails to recreate most of Dragon Search's usefulness.
ACTRocket offers shortcuts for each site it can search; you can type g Lex Friedman to Google me, or az iWoz to search Amazon for the other Steve's autobiography. Thanks to a much-needed recent update to the app, ACTRocket no longer exits and loads Mobile Safari to show you your results; instead there's an in-app browser.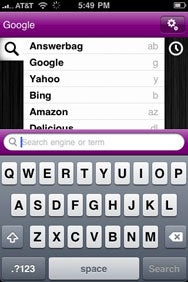 You can turn off in-app results and in-app browsing, if you desire. Don't. Otherwise, if your first ACTRocket-triggered search has a typo, you'll have to tap the Home button to exit Safari, launch ACTRocket again, perform your search there, tap a result, wait while it exits and launches Safari, and then weep as you consider the ways you're wasting your life away. Take advantage of the app's new, necessary options for in-app loading. The in-app browser itself is somewhat frustrating; it lacks most of the key features you depend on in Safari, like landscape mode, bookmarking, and the ability to share URLs.
ACTRocket also suffers from one seemingly easy-to-fix flaw. The app neglects to offer the iPhone's built-in auto-correction. It's almost never the right move for a developer to turn that feature off, and it's truly boneheaded here; if the app's goal is to help you get your searching done faster, it shouldn't slow you down on the text-entry side of the task.
My advice is to save your money. ACTRocket works, but Dragon Search's voice recognition comes in handy more frequently, provides a more elegant interface, and works faster overall. There's not much that ACTRocket does that a traditional Google search ("amazon iWoz") couldn't handle nearly as quickly.
[If you're searching for Lex Friedman, you can often find him reviewing iPhone apps for Macworld.]