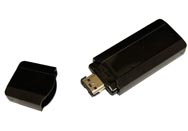 On Monday, Active Media unveiled the eSATA USB SSD Drive, a portable flash drive that features both an eSATA connection and a USB 2.0 port.
According to Active Media, the eSATA USB SSD Drive is capable of read speeds up to 100MBps and write speeds of 55MBps when using the eSATA connection. Active Media says the drive is Mac compatible; however, Macs aren't equipped with eSATA. You can add an eSATA expansion card to a Mac Pro or a Mac laptop with an ExpressCard Slot.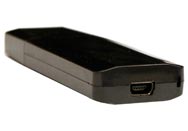 If you don't have eSATA, you can use the drive's USB port. But you'll need a cable, since the eSATA USB SSD Drive has a female mini USB 2.0 connection (like the USB port you find on many digital cameras).
A 16GB eSATA USB SSD Drive is available for $70, while a 32GB drive is $110.