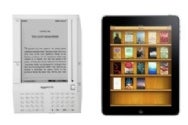 I hope you're not hanging on to all that Amazon stock: according to The New York Times, Apple has signed a deal with Perseus Books, a large independent book publisher that also distributes 330 smaller imprints like Zagat and Harvard Business School Press, to resell its books in electronic format on the iPad.
The report claims that the deal—confirmed by both Apple and Perseus—between the two companies will follow the same "agency" model that is currently in use for the App Store, in which publishers set the retail price of their products and Apple keeps 30 percent of sales in the form of a commission.
This, incidentally, is also the same deal that Apple has reportedly entered into with four of the five largest publishers, at one point sparking a war of words (and deeds) between book giant MacMillian and Amazon, whose Kindle e-reader using a different model that gives the Seattle company significantly more control over pricing. At some point, MacMillian's books (of the paper variety) were actually removed from Amazon's online catalogue, sparking outrage from a very vocal community of authors who found themselves stuck between the two sparring opponents.
Apple's strategy could bring significant changes to the e-book market, where Amazon has so far captured more than 90 percent of the market. The iBookstore business model, in which publishers are in complete control of pricing, has been met with considerable success in an industry that has, for years, been subject to the tight controls of distributors while vying for shelf space in stores.
Some analysts have predicted that the iPad could take a big bite out of Amazon's market share in the electronic book market, which may explain why the "world's largest bookstore" has, so far, decided to play hardball with publishers who sign up with Apple. The latter, for its part, has reportedly insisted that, as a condition for being included in the iBookstore, publishers agree not to distribute their books elsewhere at a lower price.