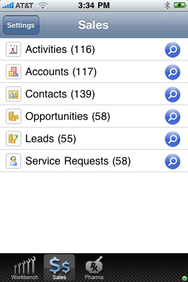 AT&T hopes to encourage more enterprise use of the iPhone with WorkBench, an application that enables secure access to enterprise Web apps from their phones.
Business users can download WorkBench from the App Store and securely access Web applications including CRM or ERP software.
WorkBench, which was developed with Antenna Software, allows for mobile VPN access, over-the-air updates, and remote data lock and wipe. It also lets users run multiple enterprise Web apps simultaneously.
Even though the application supports Web apps, users will be able to work in the applications while they are offline, with automatic updates happening when the reconnect to the network.
Administrators can require authentication for access to the applications and enable access to applications based on an employee's job requirements.
"It's the first mobile platform that brings full enterprise Web apps to the iPhone," said Randall Stephenson, president and CEO of AT&T, speaking at the CTIA conference in Las Vegas on Tuesday. "It makes the iPhone a more powerful tool for business productivity."
Note: When you purchase something after clicking links in our articles, we may earn a small commission. Read our affiliate link policy for more details.