If I had to survey my fellow gaming journalist about what game they were most excited about playing on the iPad, Flight Control HD would be the nearly unanimous winner. The breakthrough finger guidance flight control application is perfectly suited to the iPad's large touchscreen. With the promise of new maps and a 3D level, Flight Control HD is one of the most anticipated games of the iPad launch. After playing it most of launch day I can say that while not as groundbreaking as the original, Flight Control HD makes a jolly good landing onto the new platform.
Simply put, Flight Control HD has some big shoes to fill. Flight Control soared onto the iPhone and iPod touch last year to widespread acclaim and more than one mobile game of the year award. Flight Control's perfect combination of intuitively designed controls and thoroughly entertaining concept made for a surprisingly popular application. Even Firemint couldn't have anticipated that its "finger guidance" touchscreen game mechanic would have spawned so many imitators that it's now considered an entirely new subgenre of puzzle games.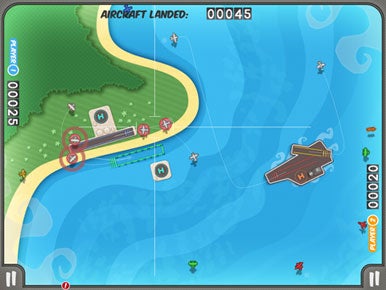 The first thing you'll notice about the game is the visual upgrade. The graphics are better, but the details, the menus, everything is just exceptionally well-polished. You'll enjoy playing Flight Control on your iPhone, but the game was meant to be played on a screen this large. With so much real estate, you can navigate your planes that much more carefully.
The gameplay remains essentially intact and the new maps add more challenging, addictive air traffic control chaos than before. With your fingers you'll guide planes, jets, and helicopters to their color-coordinated landing pads and strips. You can see where the planes are going now thanks to a handy white line that shows their trajectory. You can speed up gameplay with a handy button in the corner that automatically turns off when there's a threat of a crash.
Like the original version, the soundtrack will once again get caught in your head. Bottom line: Firemint didn't change the formula because it works. Other companies have sought to replicate it but Flight Control still remains the simplest and best time management/finger guidance game out there.
The new features show that Firemint is taking the new platform seriously. The multiplayer options allow for co-op or competition on a single screen or over Wi-Fi. Macworld editors are not above a bit of healthy competition, and there were numerous instances of trash talking and close-calls as we tried to make the other person crash.
While I applaud Firemeint for experimenting, the 3D map was on the whole disappointing. While you could clearly see how the planes were hovering over the background, the colors of the actual planes were blurry and hard to discern. This made assigning them to their proper airport difficult and the entire experience felt more gimmicky than essential.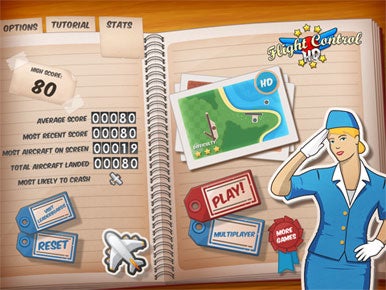 3D misadventures aside, Flight Control HD is a solid game that wisely doesn't mess with its winning formula. It's addictive as it was on the iPhone, but the polish, improved graphics, and subtle details of the game ensure this is the best Flight Control yet. iPad gamers have their first must-buy title.