Mountain Lion can help you do more than organize your music library, compose and receive email, and work out the complex equations necessary to design a hamster capable of sustained flight. With the aid of a bundled application, it can ensure that you know about upcoming chiropractic appointments, a favorite grandchild's birthday, or the dreaded yearly visit from a particularly long-winded cousin. That application is Calendar.
Launch Calendar (you'll find it in the Dock by default, as well as within the Applications folder at the root level of your Mac's hard drive), and you're presented with what's supposed to look like a real-world desk calendar—complete with leatherette top and bits of torn paper where pages have been ripped away.
The big picture
Calendar's design is different from what you may have seen in other Apple applications. Here's how it breaks out.
The leather bit: In most applications, this area would sport a configurable toolbar. Not so in Calendar. Unlike with traditional toolbars, you can't remove, add, or rearrange the items found here. What you see—the Calendars, Create Quick Event, Day, Week, Month, and Year buttons plus the search field—is what you get.
The Calendars list: Along the left side of the Calendar window is the Calendars list. (If you don't see it, click the Calendars button above and the list will appear.) By default you'll see two calendar entries—Work and Home—and a Birthdays calendar that appears under the Subscriptions heading. (Birthdays are pulled from any birthdays you've entered in the Contacts application.) If you've set up an iCloud account, Work and Home appear under that heading. If you haven't configured iCloud, Work and Home appear under an On My Mac heading. When you add calendars, their names will appear in this list.
The tiny month-view calendar pane: I'm sure Apple has a more elegant name for this thing, but until I learn it, tiny month-view calendar pane it will remain. As my cumbersome name implies, this is where you view the current month. The current date is highlighted in blue.
You can show more than the current month by dragging the top of this pane up. As you do, succeeding months are exposed. To quickly move to one of these other months in the calendar pane to the right, just click that month. You can also navigate through months by clicking the left- and right-pointing triangles to the side of the month's name.
The Calendar pane: Finally, where the bulk of the action takes place, the Calendar pane. What you see here depends on which view is selected in the leather bit above. Let's discuss those views now.
Calendar views
Calendar allows you to focus your view in the four obvious ways—Day, Week, Month, and Year—but each view has different elements. They are:
Day view (Command-1): Day view is split into two broad areas. In the left side of the view you see the date, day, month, and year. To the right is that month's calendar with the date highlighted in blue. You can quickly choose another date in that month by clicking it. Below is a list of events scheduled for that day.
To the right is a list where the day is broken into half-hour increments, with the hours from 9 a.m. to 6 p.m. in white and the other, nonwork hours shown in a light gray. Any events will be shown here as a colored bar, complete with the event's name. The color of the bar conforms to the color assigned to a particular calendar. So, by default, events connected to your Home calendar are blue and work events are green. All-day events appear as colored bars in the All-Day Events area at the top of this list. If you're viewing the current day's calendar, you'll see a small red pin-like object that indicates the current time. This is to help prevent you from creating events for times that have already passed.
If events overlap—say you have a meeting on your work calendar from 1 p.m. to 2 p.m. and your Home calendar tells you that your daughter has a soccer game from 1:30 p.m. to 3 p.m.—the events will share the same space and will also be slightly offset so that you can see that there are multiple events scheduled for this time. Additionally, the selected event is slightly transparent so that you can view the event underneath it more clearly.
Week view (Command-2): Week view runs, by default, from Sunday to Saturday. Again, you see events denoted by colored bars that reflect the color of the calendar they're part of. Above the events are the dates for that week: April 14 – 20, 2013, for example.
Although this view lacks the small monthly calendar found in Day view, you can use the tiny month-view calendar pane for this same purpose. To navigate to another week just click on it in this small calendar.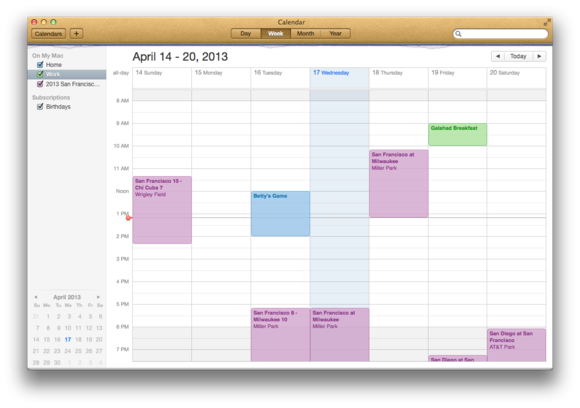 Month view (Command-3): Yes, as you've likely surmised, this is your month calendar. The current day is highlighted and events appear as bars on each day. There's a subtle difference between limited events—1 p.m. to 2 p.m., for example—and all-day events. All-day events appear at the top of the date and bear a colored bar. Limited events lack the bar and appear below all-day events. In each case, a small colored dot appears next to each event. As with other views, the color of these dots is associated with their host calendar.
Year view (Command-4): Click the Year button and you're presented with an overview of the year. Dates that bear events are highlighted, as is the current date. Click one of these highlights, and a small window appears that provides the name and time of the day's events. If you double-click a date in Year view, you're transported to Month view, with the idea that you'll use the view to create an event.
Regardless of which view you're enjoying, you'll see a Today button at the top right that, when clicked, transports you to the current day, regardless of the day, week, month, or year you're looking at. Back and Forward buttons are found on either side. When you're in Day view, they move you one day back or ahead. In Week view, a week back or ahead. You can probably guess what happens when you employ these buttons when in Month and Year views.
Note: When you purchase something after clicking links in our articles, we may earn a small commission. Read our affiliate link policy for more details.
Chris has covered technology and media since the latter days of the Reagan Administration. In addition to his journalistic endeavors, he's a professional musician in the San Francisco Bay Area.