At a Glance
Expert's Rating
Our Verdict
Samsung has taken its sweet time when it comes to HD camcorders, with the HMX-H104 being one of its first serious attempts to join well-established players such as Sony, Panasonic, and Canon.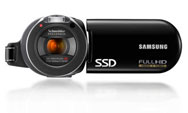 The most trumpeted feature of the HMX-H104 is the use of a 16GB solid-state drive (SSD) instead of a hard drive or internal flash memory. However, this doesn't seem to offer any real advantage, especially when some of its rivals offer more storage for a similar price, and removable memory is affordable. Samsung includes an SDHC memory card slot in the base next to the battery.
The SSD could also explain why the HMX-H104 is one of the bulkier camcorders we've seen. The bulk is mitigated somewhat by the curvy body, which is free of protrusions and easy to hold with zoom, stills, and video recording controls falling naturally under the index finger and thumb.
The back of the HMX-H104 has all the ports you'd expect stowed neatly under a cover, including mini HDMI, USB 2.0 and AV out. The LCD recess has buttons for secondary camera functions, plus an Easy Q button, which takes control over things like white balance, so you can just point and shoot. The bezel around the 2.7-inch LCD also features Q Menu, which offers shortcuts for some of the most commonly used settings. Full control is accessible using the touch-screen interface, which is fairly easy to navigate.
Another quirk of the HMX-H104 is that it doesn't offer AVCHD recording, favoring H.264/MPEG-4 with AAC audio instead. Luckily, we had no problems getting iMovie to importing our footage.
HD image quality at the highest setting gives good results outdoors, although the 10X zoom is lackluster and the HMX-H104 doesn't always focus as quickly as you'd like. More noticeable are the digital compression artifacts and some evidence of ghosting with quick pans. Color saturation is good, however.
Indoors, the HMX-H104 suffers. With no video light to play with, you're forced to rely on either Easy Q or one of the scene modes. In both cases image results are noisy and rather soft.
Macworld's buying advice
The HMX-H104 is stylish and feature-packed, but it simply doesn't deliver the kind of high-quality HD images we expect. It's also full of interface quirks that take some getting used to, and its SSD doesn't really offer any benefit over conventional flash memory or hard drive storage.