Editor's Note: The following article is reprinted from Macworld UK. Visit Macworld UK's blog page for the latest Mac news from across the Atlantic.
Feral Interactive's Sonic & Sega All-Stars Racing (Mac App Store link) is aimed at a younger audience who probably isn't concerned about realistic driving controls and real-world race-tracks.
You can choose to play as any of a wide range of Sega characters, including Sonic himself, as well as his arch-enemy Doctor Eggman, or even characters such as cool-dude Ryo Hazuki from the Shenmue game series. Each character has their own set of wheels, so you can opt for Ryo's fork-lift truck if you don't like the cutesy vehicles driven by Sonic and his crowd of cartoon friends.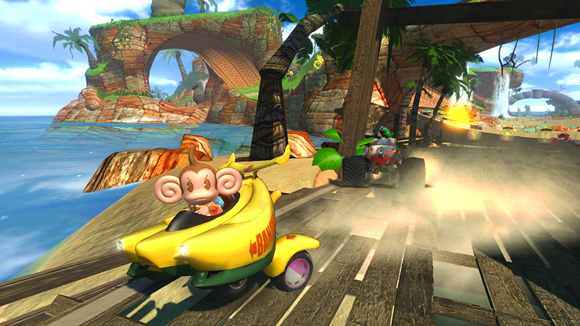 The choice of vehicle seems to be largely cosmetic though, and actual driving is pretty simple. All you can really do is just steer left or right, accelerate, or use the drift control to help with some high-speed turns. There's no brake, and you can't wreck your vehicle either; crashing into obstacles just slows you down a bit, or sends you careening around the track like a ball trapped in an oversized pinball machine. Even driving over the edge of a cliff just causes the Sega logo to flash onto the screen and then returns you to the track completely unharmed. The fact that there's no real penalty for bad driving means that adults and older children won't find the game much of a challenge, but there are enough colourful twists to keep younger players happy.
There are four main types of single-player races, including a four-stage Grand Prix, time trials, and missions that set you a specific challenge. As you hurtle around each candy-colored track you can pick up bonuses such as super-speed, a rocket-launcher that you can fire at your opponents, and mines that you can drop as another driver approaches from behind. In fact, learning how to use these weapons properly is probably trickier than the driving side of things.
All-Stars Racing also provides a number of different options for multiplayer games. If you've got a spare keyboard available then two people can play in split-screen mode on the same Mac. Up to eight people with their own Macs can play on your home network, or you can log-in to Apple's Game Center and play with up to three other people online.
Some of Feral's games have pretty high system requirements, but All-Stars Racing has a handy low detail mode that allows it to run smoothly, even on quite old machines. It does require at least OS X 10.8.3 to run, and we weren't even able to download it from the App Store onto an iMac that was still running Lion (OS X 10.7.5).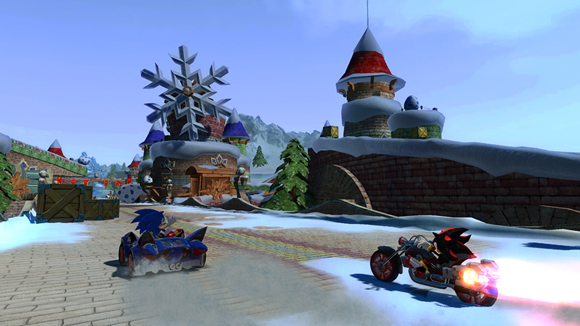 Bottom line
All Star Racing isn't a particularly difficult or challenging game so it will probably only appeal to very young players. However, it's reasonably priced and its multiplayer modes and support for Game Center add a social element that will help to keep the kids amused on a rainy Sunday afternoon.
Note: When you purchase something after clicking links in our articles, we may earn a small commission. Read our affiliate link policy for more details.