I like big phones and I cannot lie, and I really like the size of the iPhone 14 Pro Max. I don't necessarily want it to be bigger but if I did, I'd have to turn to one of the folding Android phones, which are the only handsets bigger than the Pro Max's 6.7-inch display. I'm not interested.
Samsung, however, thinks I'm missing out, and if I just give it a try, I'll be completely dumbfounded and dazed when I come to the revelation of the Galaxy Z Fold 5 folding phone.
To convince naysayers like me, Samsung has updated its Try Galaxy app so any iPhone user can "test drive the intuitive One UI 5.1.1 and explore features from the new Galaxy Z Flip5 and Z Fold5." All you need are two iPhones and an internet connection, and you are only minutes away from reaching mobile phone nirvana, or at least a simulation of it.
Fortunately, I do have two iPhones handy–my aforementioned iPhone 14 Pro Max and the iPhone 13 Pro Max that it replaced as my daily driver. (If you thought that I was unintentionally flexing about the fancy gear I have on hand, rest assured that it was totally intentional.) So, I thought I'd give it a go; after all, if folding phones are the next big thing, Apple doesn't seem to care and maybe I actually am missing out. Here's my experience with Try Galaxy on two iPhones.
Tools required: Two iPhones, idealy the same size
Materials required: A visit to trygalaxy.com on each iPhone
1.
Add Try Galaxy to the Home screen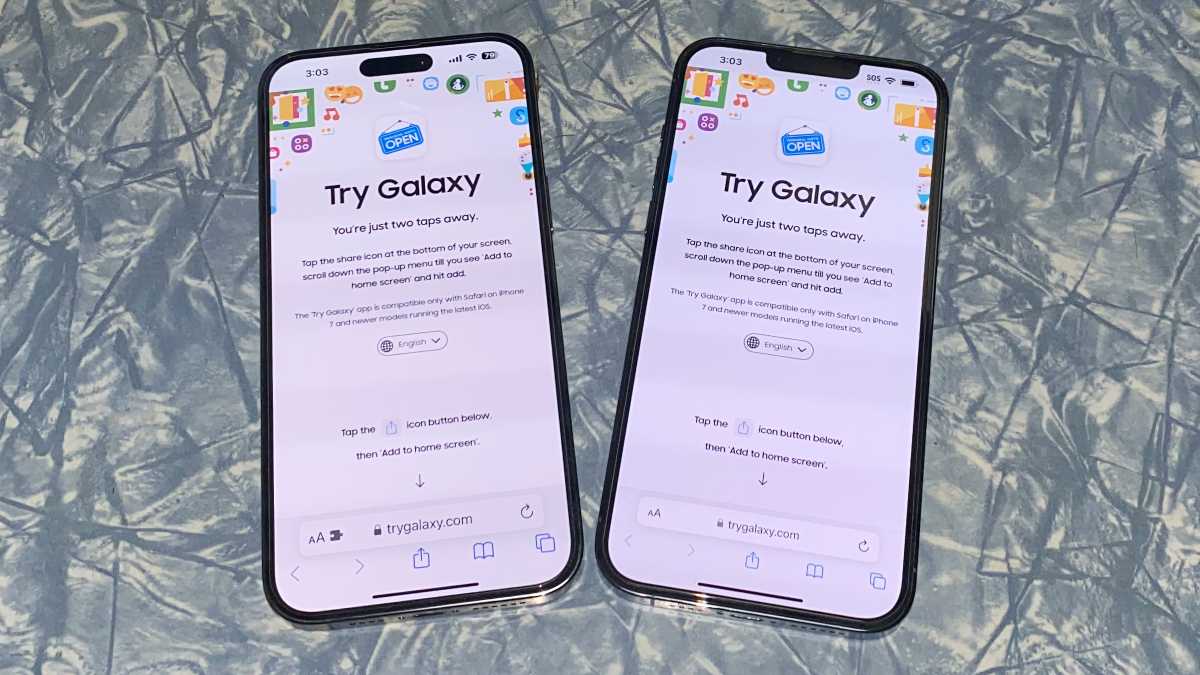 Foundry
To start your Galaxy trip, you go to the Try Galaxy website on each iPhone. The website instructs you to add a bookmark of the site to the iOS Home screen, which seemed a little sneaky to me. I imagined some Samsung exec maniacally laughing at how they got stupid iPhone users to bookmark a Samsung website prominently on their Home screen. Then I remembered that this was all in the name of "science," so I decided to hold 'em and not fold 'em and forge on.
2.
Entering the simulated UI
Foundry
With Try Galaxy's "Welcome we're OPEN" icon beckoning me on the Home screen, I tapped it and prepared myself for the experience to unfold. After a few intro screens, a simulation of the Galaxy Android's UI appeared–and admittedly, it was pretty. The two phones were still two separate phones, however, and I needed to tap the "Fold Experience" to make the two phones act as one.
3.
The Fold Experience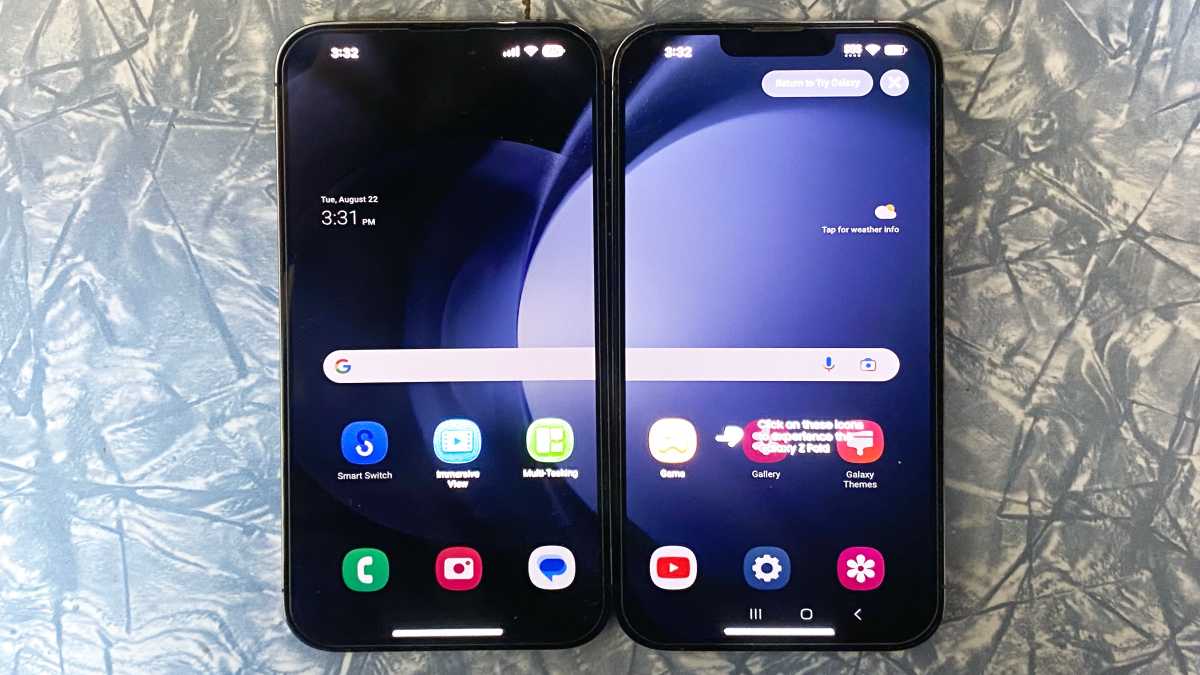 Foundry
Once I tapped the icons and entered a code to make the whole thing work, Try Galaxy slipped into its Fold UI–it was certainly a trip to see it on two iPhones.
Don't expect to get the full Galaxy Fold experience, however. The simulation is limited to a few demos, and you can't do any of the more mundane things you'd do on a phone, like adjust settings, make a call, or send texts in garish green bubbles. Plus there's a pretty big gap between the two phones which obviously isn't an issue on the Galaxy Fold.
4.
Unleashing the Fold: Air Hockey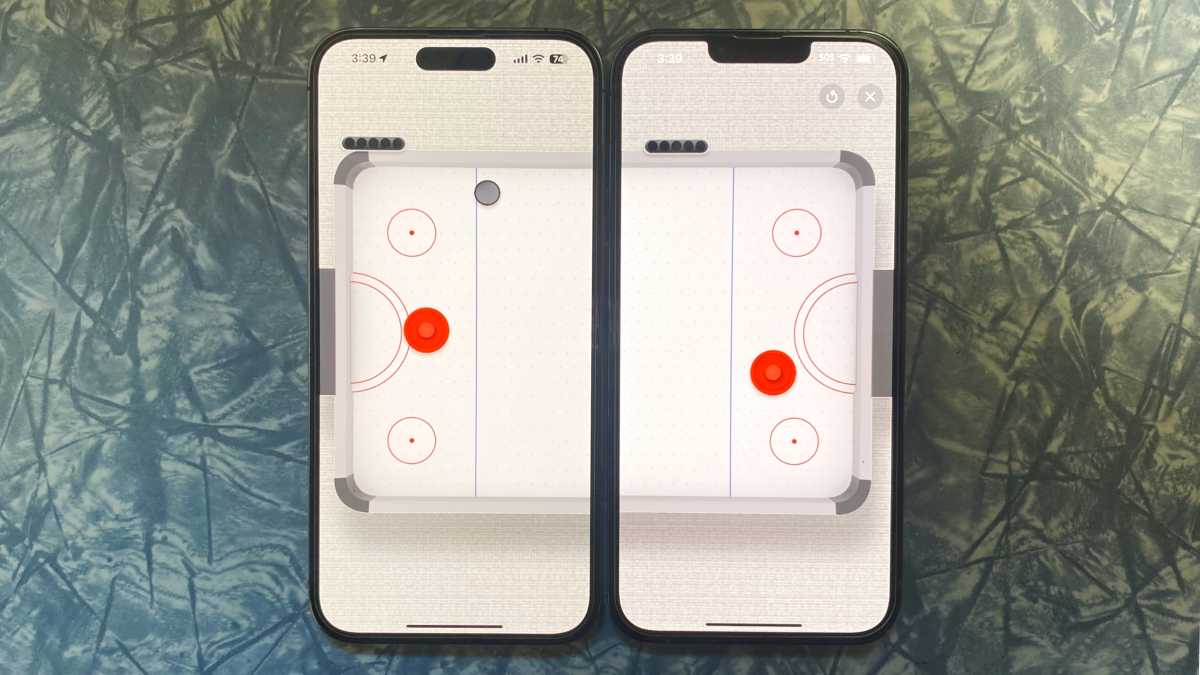 Foundry
Maybe two-player gaming is the Fold's killer app. I mean, who can't see the appeal of two people hunched over a small screen to play air hockey? I can't. But I'll admit that the gameplay over the two iPhones was cool.
5.
Unleashing the Fold: Multi-Tasking
Foundry
The multi-tasking demo involves dragging a photo from one screen to a text message on the other. It was a little tricky, mostly because the iPhones don't sit level on a table, plus they're separate devices, so dragging and dropping from one screen to another isn't as smooth…as it would be on a folding phone.
6.
Unleashing the Fold: Immersive View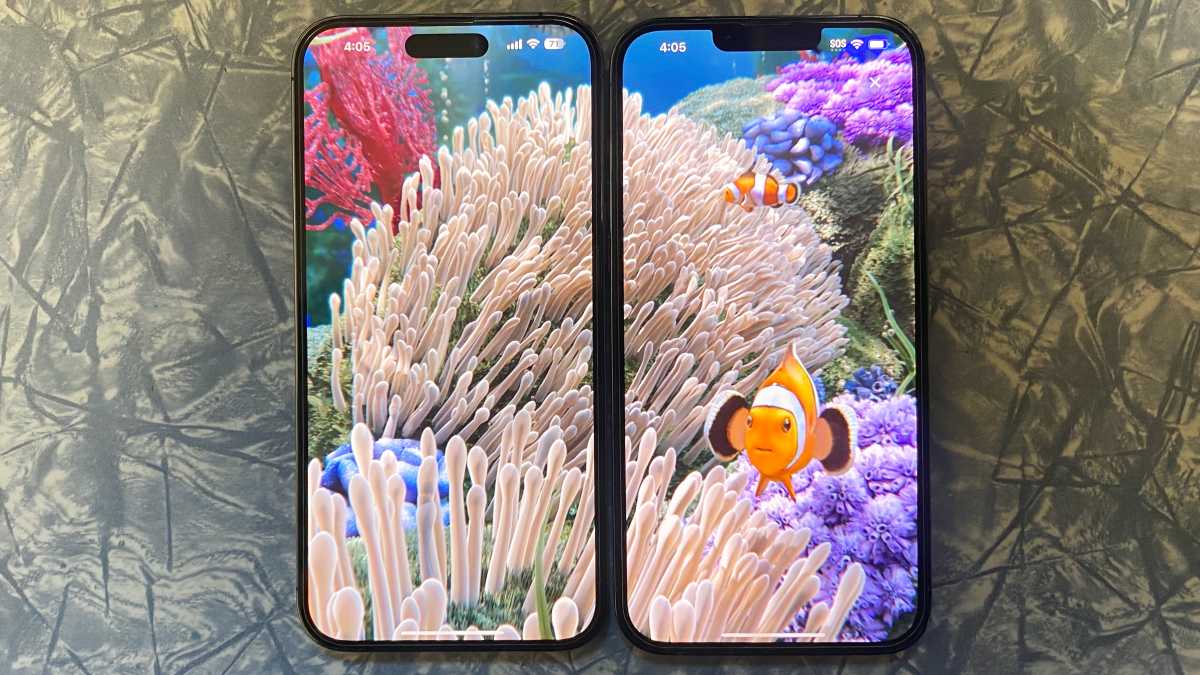 Foundry
The final demo is the Immersive View, where a video plays across the two screens. It's a nice video if you can get over the gigantic seam that lies in the middle. (Now, the crease in the Galaxy Z Fold 5 isn't like the one you can see here, but according to reviews, it is noticeable. This seems like a general problem that isn't going to be completely fixed anytime soon.)
7.
Taking the fold into my own hands
Foundry
The whole experience is incomplete, though. I wanted to know what it's like to hold a foldable phone in my hands. So I took the experience one step further and I taped the two iPhones together to create a "hinge."
Then I folded my foldable iPhone and put it in my pocket and my drawstring pants fell down. After pulling my pants back up from around my knees, I took out and opened my folded phone and did the Try Galaxy demo again. And my impressions of the Galaxy Fold didn't change.
Yeah, I know that a foldable phone is engineered to be foldable and thinner than two iPhones taped together but it's actually pretty close (13.4mm for the Galaxy Fold and 15.5mm for the two iPhones). And it was thick enough to make me want the whole thing to be over.
What did I learn, overall? I've been using an iPhone since the beginning, and while Samsung's Try Galaxy demo was done well, I'm not switching to Android, and I'm not convinced I need a foldable phone whether it's iOS or Android. The demo didn't do enough to convince me and dare I say, that makes me young at heart. Also, I probably shouldn't wear drawstring pants.