As we've traveled along OS X's byways and thoroughfares, we've encountered a couple of ways to communicate—via email and through text with Apple's Messages application. In this lesson we'll explore a third method: FaceTime, Apple's video chat technology.
Described by some as "Jetsonian" and "the future come to life," FaceTime allows you to place and receive free video calls. It's a feature bundled with Mac OS X Lion and Mountain Lion, and it's found on iOS devices that include a front-facing camera. (On an iPhone it's implemented within the Phone app.) To use FaceTime with your Mac, your computer must be connected to a camera. It can be a built-in FaceTime camera (formerly known as an iSight camera), as found on Apple's laptops and iMacs, or you can use a Mac connected to a compatible USB or FireWire camera.
Configuring FaceTime
If you've configured your Mac with an Apple ID (as you should have by now), you'll find that you're ready to receive FaceTime calls. Just launch the application, and the FaceTime window appears. On the left side of the window, you'll see the image that your Mac's camera captured. On the window's right side are the addresses associated with your Apple ID, as well as an empty password field. Enter a password and click Sign In. When you've done this successfully, people who know your address will be able to call you over FaceTime.
If you haven't configured your Mac with an Apple ID, you can enter it in the user name field, enter your password, and click Sign In. And if you don't have an Apple ID, you can get one by clicking the Create New Account button.
When you click Sign In, the resulting pane will show you any addresses and iPhone phone numbers that are associated with your Apple ID. If you have more than one associated address—both an icloud.com address and a me.com address, for instance—you'll see each address listed. If you have multiple addresses, you can uncheck any that you don't wish to use. For example, many people may still know you by your me.com address, and so you may choose to use that rather than your icloud.com address.
Click Next. Apple will verify your addresses, and you'll go to the All Contacts pane. This pane contains all the names you've stored in the Contacts application. Click a contact's name to see any iPhone numbers and email addresses entered in their contact card. Click the entry that you know to be associated with a contact's FaceTime identity, and FaceTime will initiate a call.
Note that if you choose to use someone's iPhone number, you're not limited to calling them on their iPhone. That number is associated with their Apple ID, which means that even if you choose that number and place a FaceTime call to it, FaceTime will "ring" on any devices associated with that Apple ID. So, you might call that number, but the person you're trying to reach may pick up the call on their iPad, iPod touch, or Mac.
In-call options
When we first talked about Messages, I walked you through video chatting within the Messages application. FaceTime on the Mac works similarly. When you establish a call—as caller or recipient—you see a window with two images. The larger one is of the person you're speaking with, and the smaller one is your image.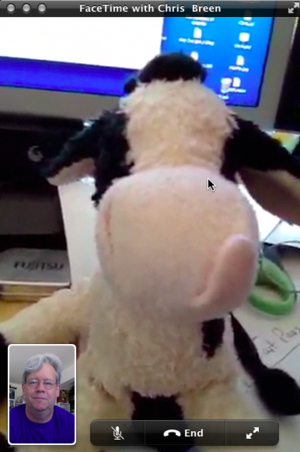 Within the chat window you have a few options. Move your cursor over the window, and a small gray bar appears at the bottom. The first button in this window lets you mute your microphone. It comes in handy when you shout "That jerk, Scooter!" after your helpmeet asks "Who are you talking to?"
To end a call, just click the End button. And if you'd like to see the call in full-screen view, click the double-arrow button on the right side of the bar (or press Command-Control-F). You can change the image orientation from picture to landscape by clicking your image and then clicking the circular-arrow icon that appears. (You can also press Command-R to toggle between portrait and landscape views.)
Note: When you purchase something after clicking links in our articles, we may earn a small commission. Read our affiliate link policy for more details.
Chris has covered technology and media since the latter days of the Reagan Administration. In addition to his journalistic endeavors, he's a professional musician in the San Francisco Bay Area.