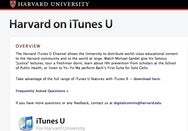 Want an Ivy League education but don't want to pay Ivy League prices? That's not exactly what you'll get from Harvard's offerings at iTunes U, but you're sure to find plenty of quality, Harvard-produced content at no cost to you.
Following in the footsteps of universities like Yale, Stanford, Brown and San Jose State, Harvard has just uploaded a series of courses, classes, interviews, and performances taped right from its very own campus onto iTunes University. From the Harvard iTunes U index, most material under "Life at Harvard" is sorted by department, which makes it a bit difficult to separate the short tours and preview clips from the more substantial content. Beneath that is "Learning at Harvard," which features complete courses and ongoing Harvard podcasts.
Among the highlights on iTunes U, Harvard has the complete Justice with Michael J. Sandel series produced with PBS affiliate WGBH Boston. There's a series of 58 audio interviews with Harvard Press authors under the appropriately named Harvard University Press section. Conversations in Public Health covers everything from the health effects of coffee to the eradication of polio to HIV prevention. The John F. Kennedy Jr. Forum section features talks from world leaders and ambassadors to an audience of Harvard students, while the Arts & Culture section features footage from performances by famed cellist Yo-Yo Ma and the Harvard Quintet.
All you need to download these freebies is to have iTunes installed and set up with an iTunes Music Store account.