Sold under the tagline "Notes and Images, together at last," NoteMaster is yet another note-editing app for the iPhone. What separates Kabuki Vision's app from the note-taking crowd is NoteMaster's focus on more power-user features such as Google Docs syncing, folder organization, and in-line image support.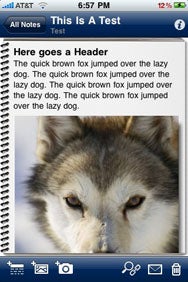 Unfortunately, some of these features work hastily. For one, Google Docs syncing only works by using a sub-folder of your main Google Docs account; you cannot sync multiple folders.
As a matter of fact, many of NoteMaster's features seem to involve too many unnecessary complications. For instance, to e-mail a note, you must enter all of your e-mail account information, instead of having NoteMaster interact with the built-in Mail app on your iPhone or iPod touch.
Editing and creating notes is a bit complicated, in the sense that there's a flood of buttons and menus to go through. But NoteMaster is pretty rich in features, with the ability to add headlines, notes, and titles. You can also organize notes into a series of folders.
NoteMaster's strong suit is not its look-and-feel, which, at times, feels gaudy and over-done. (In that sense, NoteMaster feels like exact opposite of the exquisitely streamlined Simplenote.) NoteMaster provides themes for changing the way notes look, but the entire experience just detracts from getting a note typed up. The app sports more buttons and interface elements than need to be there, contributing to my impression that I didn't feel I was using a well-designed product.
NoteMaster succeeds at combining several powerful features into one app. It does what it says it will do, and there are no significant flaws that make it atrocious or unusable, but it isn't typical of the elegant experience that I look for in iPhone apps.
If finding a product that is feature-rich is your main concern, you might want to consider NoteMaster. However, if you're looking for an elegant and simplistic note-taking experience, you'll want to look elsewhere.
[ John Fuller is a freelance designer and writer from Texas.]