It takes a brave developer to launch an app called Epic Fail. Reviewers like me— full of smarminess and fans of easy word play—are all too eager to turn their subject's name against it. Fortunately for Epic Fail, it isn't one—though it's far from perfect.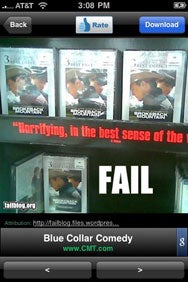 The free app from StuckPixel is a never-ending slideshow of those LOL-inducing images showcasing various depictions of failure made popular by sites like Fail Blog. You launch the app, choose whether to browse recent, popular, or random images, and then go to town.
The pictures are hit or miss, but often funny, culled from (and credited to) a variety of blogs that purvey such content.
One annoyance mars an otherwise fully satisfying fail-centric experience. Sometimes photographs showcasing failures of an epic variety don't fit on the iPhone's small screen. And since Epic Fail fails to honor the iPhone's "double-tap to zoom" shortcut, you're forced to either drag the image around, or pinch repeatedly to see what's so funny.
Still, if you're addicted to images that display the suffering of others for your amusement, you could fail a lot harder than Epic Fail.
[Failure is not an option for Macworld contributor Lex Friedman.]