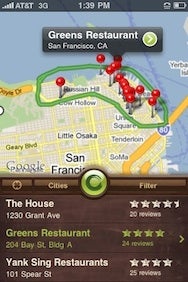 Yahoo released two new applications for the iPhone on Tuesday, both of which are unsurprisingly search-oriented.
The first is Yahoo Search, which allows you to retrieve information from Yahoo, such as local maps, news, sports results, stock quotes, and more. The results are presented in a clear, easy-to-read iPhone-optimized layout. And, as in the Google Mobile App and Microsoft's Bing app, Yahoo Search also allows you to speak your search terms instead of typing them.
The other app is called Yahoo Sketch-a-Search and it's definitely the more interesting of the two. Upon launch, it presents you with a map of your current location. You can then draw a shape—any shape—over the entire area and the app will bring up all the local restaurants in the area, allowing you to then select any of them and find out their hours and contact info. Yahoo plans to add more categories and expand to other countries in the future.
Both apps are free and are compatible with all versions of the iPhone and iPod touch running iPhone OS 3.0 or later. They join the ranks of other free apps from Yahoo such as Flickr, Inquisitor, Yahoo Fantasy Football '09, Yahoo Finance, Yahoo Messenger, and Yahoo Shopping.