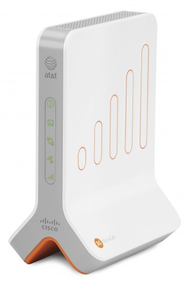 If you often find that when you're at home your iPhone is constantly dropping calls or suffering from generally poor reception, AT&T's offering a remedy for your network signal blues. The company announced on Wednesday that it will begin rolling out its AT&T MicroCell nationwide in mid-April.
The MicroCell is a bit like a wireless router for your cell phone. You plug it into your network and it generates a miniature cell signal that should cover your home, improving your signal strength and ensuring an end to reception problems. Finally, you can make calls without fear of repeatedly having to ask your conversation partner "are you still there?"
You can also lock down the MicroCell so that only phones you approve—up to ten different lines, and up to four at the same time—can make calls from it. Minutes are deducted from the plans of the phones using the MicroCell. While most standard 3G voice and data features should work fine on the MicroCell, AT&T does note that certain location-based services may not function correctly at this time.
In addition, if you want to pay a little extra, you can shell out $20 per month for Unlimited MicroCell calling—that's free domestic calls in the U.S. as long as you're on your MicroCell. On the upside, AT&T is offering rebates on the MicroCell's price if you sign up for a MicroCell calling plan or AT&T broadband service.
However, the MicroCell does have its downsides. For one thing, the price: it's $150 to buy one of the devices, which you're paying for on top of your existing service. For another, it requires you to have an existing broadband Internet connection. For those hoping that the MicroCell means they can get AT&T service out in the boonies, keep in mind that a satellite Internet connection won't cut it: you'll need something of the DSL or cable caliber. Also, while you can start a call on your MicroCell and then leave your house, you can't do the same in reverse—AT&T's cell towers won't hand off calls to the MicroCell. There are a few additional caveats as well, so it's worth reading AT&T's FAQ on the MicroCell if you're considering investing.
Many iPhone users have been battling poor coverage and reception issues on AT&T's network for some time now. Will the MicroCell do much to change that? For some users, perhaps, though for many others it's going to be a hard sell to give yet more money to AT&T to fix the company's lousy service.