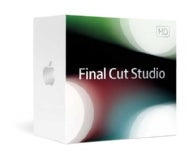 If you've got the latest version of A pple's Final Cut Studio suite of pro video applications on your Mac, it's time to fire up Software Update—Apple has an update just for you!
Pro Applications Update 2010-01 includes 24 bug fixes and improvements for five different applications. Final Cut Pro moves up to version 7.0.2 with three fixes related to clip duration when removing reverse speed, the Log and Capture window, and HDV to Apple ProRes capture via FireWire. Motion 4's five updates bring its version up to 4.0.2 and address a number of issues ranging from stability on Macs with limited graphics or system memory to rendering of 3D scenes using the Checkerboard generator.
Compressor sees the most fixes, with 11 updates that correct issues including long chapter names and titles not showing up correctly in disc templates, color shift problems when transcoding image sequences, problems with MobileMe uploads, and more, bumping up its version number to 3.5.2. Color (now at version 1.5.2) receives fixes with color correction, loading and processing of trackers, and a problem with the green channel on video scopes displaying an incorrect value. Finally, Cinema Tools moves up to version 4.5.1 with a fix for a problem that occurs when importing telecine logs.