Editor's Note: The following article is reprinted from GamePro.com. For more gaming news, visit GamePro's news page.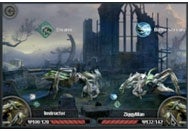 While the iPhone is a platform that can provide great gaming experiences across almost every genre, an epic cinematic-style horror RPG on the scale of the recently announced The Witcher 2: Assassins of Kings isn't the type of game that should be attempted on Apple's mobile platform. Thankfully, CD Projeckt and one2tribe are creating a Witcher experience fit for the iPhone with The Witcher: Versus.
Previously available as a browser-based game, The Witcher: Versus seems to meld the horror-fueled RPG elements of its retail-sold companion with the twitch-style one-on-one fighting experience that Street Fighter IV has proven works well on the iPhone.
We'll be sure to have much more in the coming months as the next chapter of the Witcher saga begins to take form. For now, you can test out the browser-based version of The Witcher: Versus of the game to prepare to go mobile.
Hat Tip: Destructoid