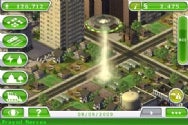 Electronic Arts announced earlier this week an update to their beloved SimCity franchise. SimCity Deluxe for iPhone, due out this summer, promises not only more robust game features but also a complete visual makeover. Now, the civilization you keep on your mobile device will look even better and you'll be granted even more control over your Sims.
For those who were frustrated by the initial translation of the SimCity franchise to the iPhone's touchscreen interface, take heart. According to the press release, the UI will feature "larger buttons, better flow, and more accessible items." The graphics have been improved as well, looking more like SimCity 4 than SimCity 2000.
You'll also have more control. The beloved terrain editor is back, meaning you'll be able to plant trees and paint water with only the touch of your finger. Ever wanted to build a city in the middle of a lake? How about a city at the bottom of a valley? With the terrain editor, shaping the world in the image you want is only a few finger presses away.
Seven scenarios and seven new starter cities have been added to the game. If you don't want to build a city from scratch, challenging yourself with someone else's creation will keep you playing for hours longer.
SimCity Deluxe will also feature four distinct seasons and seasonal appropriate disasters. As mayor, how will you respond to the summer floods or an unforeseen snowstorm? SimCity Deluxe lets you find out.
The release date and pricing for the game have not been released, but amateur mayors should look for the app on the App Store in the summer and likely priced on the premiere side.