At a Glance
Expert's Rating
Pros
Excellent integration of Web services
Fantastic new HD interface
Cons
Software feels slightly unfinished
Slightly sluggish performance at times
Our Verdict
TiVo Premiere is the first true overhaul of the TiVo experience since the company changed our TV-watching world over a decade ago. True, TiVo didn't invent the DVR, but the company did such a good job making it usable that the word "TiVo" has become a verb, one that's synonymous with all DVRs, just as Kleenex is to tissues. This fourth-generation TiVo features cosmetically -tweaked hardware, but it has significant changes under the hood and, more important, it introduces a redesigned interface and new features optimized for high-definition TV and a Web-connected era.
The new interface makes TiVo all the more appealing; however, cost remains the primary barrier to adoption. TiVo Premiere is $299 for the basic 320GB model, plus monthly service fees that start at $13, with discounts for long-term contracts. (For more recording capacity, there's the $499 1TB TiVo Premiere XL, which can record 150 hours of high-def video.)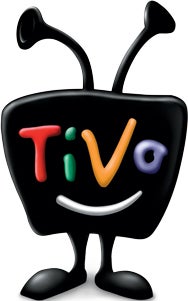 If you're a fan of the current TiVo models, the interface changes in the Premiere will be immediately obvious. Gone are the stretched, low-res screens formatted for standard-definition TVs. In their place are high-def-resolution graphics and a snazzy design that presents top-level menus on the left side of the screen and drill-down submenus on the right (previously, these submenus were presented as separate screens entirely). By bringing the submenus up a level, a lot more information can be presented on a screen, with a far less wrangling with the remote control. Fonts are smaller and clearer, and the design has a more dramatic use of color. The upper-right corner displays the current TV channel while you're digging around in the menus, and a beautiful "Discovery Bar" populates the top of the screen with all sorts of content related to whatever it is you currently have selected.
(Note that Roxio has announced that the TiVo Transfer and Mac2TiVo apps—for transferring TiVo recordings to your Mac and sending videos from your Mac to your TiVo, respectively—included with Toast 10 Titanium ( ) and Popcorn 4 have been tested and are compatible with the Premiere and Premiere XL.)
The new TiVo Premiere units are slimmer and sleeker than previous revisions, with simple, colored circular lights on the front to show you if the unit is on or recording a program, or what actions you may be performing with the remote. Sadly, the handy OLED screen from the Series 3 that displays the time and names of the shows being recorded has been excised. Older TiVos could record two channels at once from cable or over-the-air, but required two single-stream CableCards to receive two cable channels.
By contrast, Premiere has a single CableCard slot, but supports multistream cards (M-cards), so it can still record two channels at once, even while you watch a previously-recorded show. Though the menus have slightly altered names and a new look, navigation in general will be familiar to anyone who has used TiVo before. The channel guide can be switched between the excellent two-pane Live Guide view and the familiar Grid view you find on most other DVRs.
The ergonomic, comfortable-to-use peanut-shaped remote is still here, and looks much as it always did; those "Thumbs Up" and "Thumbs Down" buttons, whereby you tell TiVo which programs you like so it can learn to automatically record stuff it thinks you might want to check out are still there. So are the satisfying "bla-bloop" sounds. Want to interact with the screen more? An optional remote, to be available later this year, will have a slide-out keyboard (it will retain the peanut shape, but will be stouter).
Though many core features are the same, others have been tweaked for the better. If the show or actor you're searching for doesn't have any programs in the guide, it's easier than ever to set up a WishList search so you don't miss it in the future. The skip-forward button can be toggled between the old functionality (skipping forward to the end of a show) and a new 30-second scan feature that very rapidly moves forward 30 seconds for each press of the button. You'll catch a glimpse of the ads this way, but the movement is so fast you'll hardly notice them. (Users pining for the old "30-second skip" Easter egg remote code will be happy to know it still works.)
Your recorded library, formerly known as "Now Playing" and now renamed "My Shows," finally displays exactly how much space you're using on your TiVo's hard drive. Search results are displayed in order of popularity by default, so you're more likely to find what you're looking for without laboriously typing in long strings of text with the remote.
The Discovery Bar is perhaps the best feature of the new TiVo. Hover over "My Shows," and it presents a combined list of TV shows and movies that are similar to the things you like. Select a particular show, and the bar narrows down recommendations to programs that are similar to that show, or are given the "thumbs-up" by other TiVo users who also like that program. In the options menus you can customize the Discovery Bar to show more or less of certain types of content. If you don't want as many movie recommendations, premium paid content, or "showcases" of a particular genre or actor, you can lower those priorities and raise others.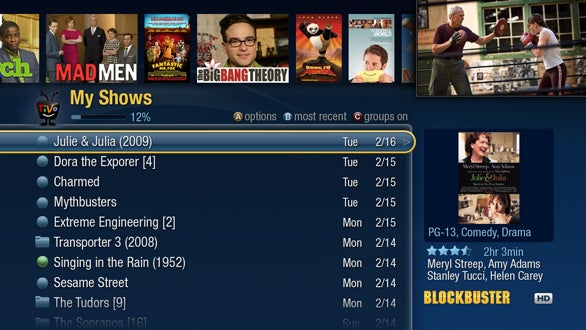 In my use, this feature worked well and can easily turn you on to things you might not have otherwise tried. In some ways it's reminiscent of the philosophy behind the latest Zune software, which emphasizes discovering new stuff just as much as consuming the stuff you already know and love. TiVo is using its rich database of statistical info on user behavior and preferences to help you find new content, and it's a welcome breath of fresh air.
The new Series 4 software is also more Web-connected than ever before. Services like Netflix, YouTube, Amazon Video on Demand, Blockbuster, and Rhapsody are well integrated to all aspects of the experience. Look up a movie, and if it's not coming on cable anytime soon, you can watch it directly from Netflix streaming or rent it from Amazon (if available). These services seem to run as their own applications, with slightly different interfaces than the main TiVo Central screen. Still, at least your searches pull in data not only from your cable TV programming, but from these services as well. One of the benefits of building the interface on Flash is that it will make be easier for TiVo to integrate additional services (for example, Pandora will be added later this year). The Web integration is far superior to what you get from a typical cable DVR.
For all the features that are well-executed, TiVo Premiere is not without its sore spots. If you dig into the menus beyond the basic "find and watch TV, movies, and music" functions, you're back into the old TiVo standard-def interface. This will be common in the first few days as you reorder your Season Pass priority list and futz around in the system menu, but it won't often be seen once you have everything up and running the way you like it. TiVo says many of these menus will be upgraded to the new HD look over the coming weeks and months. Also, it's still difficult to schedule a Season Pass to record only the shows that come on at a certain hour if new episodes are aired multiple times a day, or if a program always uses a generic description in the guide info (aka "The Daily Show problem").
Despite the old single-core 300MHz Broadcom processor being replaced with a dual-core 400MHz model, and the RAM being doubled (from 256MB to 512MB), I found that menu navigation could sometimes be a little slow and unresponsive. This happens especially in loading thumbnail graphics in the Discovery Bar. TiVo says that it is aware of this problem, and that it should be addressed in a software update that will be available when TiVo Premiere units start shipping to customers. I also found a few small text formatting problems as well; TiVo says these should be likewise fixed in a software update.
With TiVo Premiere, the company cements its reputation as the premier (if you'll pardon the pun) DVR experience on the market. The greatest obstacle to TiVo adoption remains its sticker shock: That $300 or $500 for a box, together with a recurring monthly fee or a big lifetime subscription fee, seems like a lot of money. But you'll almost certainly pay a fee to lease a DVR from your cable company, and over the years the TiVo approach may actually be cheaper. Still, laying out that much money up front just for a better experience may seem like a lot to ask.
Macworld's buying advice
Bottom line? Despite the cost of entry, I can highly recommend TiVo Premiere to anyone fed up with the sorry functionality of their cable DVR, especially those who make use of Web services like Netflix or Amazon Video on Demand. It's a small price to pay for a vastly better TV-watching experience.