As developers are revving up for the iPad's release, I-Play and Tequila Mobile hope to make a splash with their own launch announcement. On Thursday, I-Play announced that Warships: Sea on Fire will be sailing the expansive screens of the iPad when the device launches next week.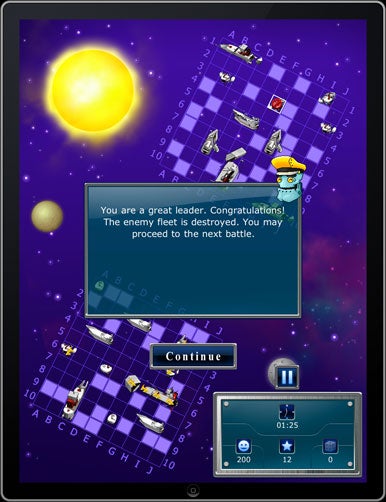 Set across three unique time periods, this naval strategy game promises to offer a dedicated iPad UI, 60 levels of combat, and full-screen HD graphics. You play as a fleet commander in one of three thematic time periods: World War I, Pirates, and Science Fiction eras.
The cartoony graphics and touchscreen interface look like they'll put the iPad's large screen to good use. The game also looks to have more depth than your average mobile offering. In their press release, the developers at I-Play and Tequlia Mobile claim that Warships will feature 20 levels per theme plus a built-in tutorial. The gameplay will expand upon familiar game rules adopted from "pen and paper battleships" with a battle grid, tactical deployment of ships, and turn-based combat.
With dozens of levels to play through, the game hopefully will offer hours of strategic fun. You'll be able to rise up through the ranks of the navy from ensign to fleet admiral. As you progress, you'll unlock new tiles, rewards, and medals. The developers boast of the "challenging" AI, but the press release didn't mention a multiplayer component. With a game like Battleship, sinking your friend's aircraft carriers and submarines is part of the fun. Hopefully the game incorporates a rigorous online multiplayer mode in addition to the standard blu-tooth and Wi-Fi capabilities.
Though no price has been revealed for the game yet, look for this release on the App Store when the iPad hits the stores next week.