Editor's Note: The following article is reprinted from Macworld UK. Visit Macworld UK's blog page for the latest Mac news from across the Atlantic.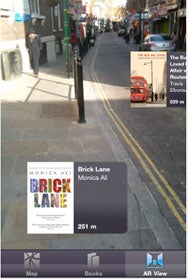 Design agency KentLyons has launched Get London Reading for iPhone and iPod touch with added augmented reality for 3GS users. The free iPhone application aims to get Londoners and those visiting the capital exploring London's rich literary heritage.
The app for the Get London Reading Campaign, run by the Booktrust, comes with augmented reality, available on just a handful of iPhone offerings."The augmented reality application is beautifully simple, yet inspiring," KentLyons said in announcing Get London Reading. "Hold up your iPhone on any London street and a floating book cover will appear of any novels that are based, or mention in the area you are in. For instance, if you are standing on Baker Street, any number of the iconic Arthur Conan Doyles' Sherlock Holmes titles will appear on the street view."
The Get London Reading iPhone app currently includes 500 books, with more books and destinations promised.
"This entire campaign, has been a pleasure to create," said Noel Lyons of KentLyons. "This is a great, interactive and sociable application we created mainly because we love the possibilities of augmented reality being used to encourage 'old-fashioned' reading—new technology being used to highlight the simplicity of reading a book."
Available from the Apple iTunes App Store, Get London Reading is free and requires the iPhone 3.1.2 Software Update or later. KentLyons notes the augmented reality function requires the iPhone 3GS.
Formed in 2003, KentLyons is an London-based graphic design agency. The company works on a wide variety of creative projects, including branding, print, interactive and environmental design. Clients include Channel 4, Taschen, D&AD, LV, Booktrust, The Design Council and Westfield. KentLyons were responsible for last year's Get London Reading push that saw the massive street campaign bringing literature to the streets.