Editor's Note: The following article is reprinted from the Today @ PC World blog at PCWorld.com.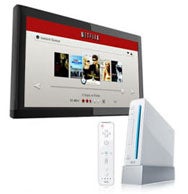 It's no secret that Netflix has been gearing up to stream movies and TV shows via the Nintendo Wii console, but now it appears the launch is near. Netflix on Thursday announced that it has shipped instant-streaming discs to some of members for testing. "Their feedback will ensure that we deliver a great experience to everyone when we launch," writes company spokesperson Jessie Becker on The Netflix Blog.
Wii owners need a broadband connection, a $9 or higher Netflix unlimited plan, and an instant-streaming disc to watch thousands of movies and TV episodes via the Internet. They can order a free disc at the Netflix site.
Console catch-up
Some critics have knocked the Wii's streaming capabilities, which admittedly don't compare favorably with newer, more advanced living-room hardware. For starters, the Wii requires a Netflix disc, unlike the latest breed of Blu-ray players, set-top boxes, and other devices. And as Matt Peckham from PCWorld's Game On Blog points out, the Wii doesn't do high-def video either:
"Nintendo's little-console-that-could, for all its game-related kudos, is strictly locked at 480p, the high-end spec for standard-definition TVs (sometimes called EDTV or "enhanced definition"). That amounts to just 640 by 480 (or 720 x 480, wide) lines of resolution in NTSC-based countries like the US. Microsoft's Xbox 360 and Sony's PlayStation, by comparison, run at 720p or 1080p, i.e. 1280 by 720 and 1920 x 1080 lines of resolution, respectively."
Good enough for now
For many, the Wii's relatively low-res output may not be that big of a deal because their broadband connections lack the bandwidth required for HD video. And given their investment in the Wii, many users probably won't switch to an Xbox 360 or PlayStation simply to watch high-def flicks. Note: While Netflix access is integrated into the Xbox 360's Dashboard interface, PS3 users currently need to use an instant streaming disc, too. Netflix says it hopes to have an embedded solution available for PS3s via a system software update later this year.
Today's Wii console and its (admittedly clunky) Netflix streaming disc represent an interim and relatively cheap solution for Wii owners who'd like to give online streaming a try. Eventually, these users will upgrade to more advanced hardware—perhaps an HDTV with built-in Netflix streaming and Wi-Fi. Or they'll move up to a newer Wii console that's better equipped to stream Internet content.
Until then, the free Netflix disc is better than nothing. After all, all Wii owners have to lose is $9 a month for a Netflix subscription. And if the picture stinks, they can cancel at any time.