As April 3 draws ever closer— iPad zero-hour, just in case you aren't counting down the days—a growing number of developers are taking the wraps off plans for making software that runs on Apple's new tablet. Two of the more interesting announcements as of late have come out of Australia, where developers Bitolithic and Syncode are giving users the scoop on what the iPad means for their respective apps.
In Bitolithic's case, that means Comic Zeal, the comic-book reading and storage app that's gained quite a following among iPhone- and iPod touch-toting graphic novel aficionados. With a much larger screen than Apple's current mobile devices, the iPad is an obvious fit for reader apps—so obvious, in fact, that in a blog post announcing Comic Zeal V4, Bitolithic says that "there was never any question" that the app would become available in an iPad-optimized form.
From the preview images posted on Bitolithic's Website, the major changes with Comic Zeal V4 are centered around the interface. What was the main navigation screen in the iPhone version is now a pop-up view on the iPad. Most of the controls have moved to the top of the page for a more natural reading experience with a tablet-sized device. The exception: Comic Zeal's page-turning controls, which are accessible by thumb.
The forthcoming app will be able to read CBZ, ZIP, CBR, and RAR files natively, though Comic Zeal will need to process the comics and resize the image. Therein lies an unknown, since the images are now 60 percent larger than they were before. Bitolithic doesn't know how long it will take to process comics, but plans to optimize the process once it's able to get its hands on an actual iPad (a problem many would-be iPad developers are struggling with, actually).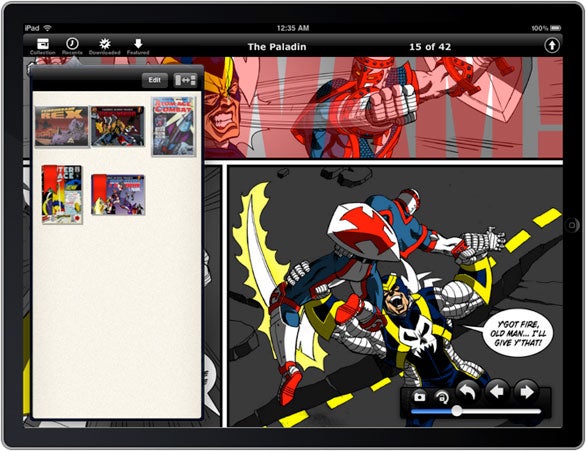 While Comic Zeal v4 will be for the iPad initially, that won't always be the case. "As the tools to do it become easier, we'll make version 4 iPhone-compatible, too," Bitolithic announced in its blog.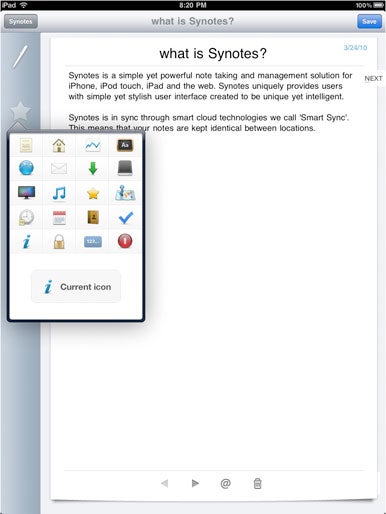 As for Syncode, it's coming out with an iPad-specific version of its Synotes note-taking app. The new app will be called Synotes Slate, and Syncode expects it to take advantage of the iPad's greater screen real estate. The company says it's already submitted the 1.0 version to Apple for approval, so that Synotes Slate can be available once the iPad launches.
"It is important to note that the application has been written from scratch for the new platform," Syncode said in a blog post announcing its plans. "This means a better user experience for everyone involved."
As for the iPhone and iPod touch version, it's getting a new name. That app will be redubbed Synotes Mobile, according to Syncode.
Updated to correct the spelling of Syncode's name.