Steampunk is a movement within science fiction and alternative culture which melds futuristic technology with Victorian society and imagery in a quirky, anachronistic way. Think gentlemen in bowler hats and ladies in bodices shooting laser guns while riding flying motorcycles that run on steam and have cogs. If that sounds totally awesome to you, you might want to pick up a little game called Steampunk Hockey. Developed by Kenneth Mayfield, the game's unique style is ultimately its best selling feature.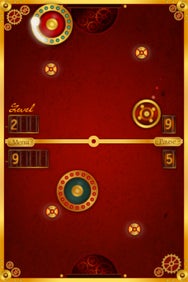 While Steampunk Hockey doesn't offer up Wayne Gretsky and Alex Ovechkin in stovepipe hats and monocles, it is a pretty solid take on an air hockey game for iPhone. The thing this game has going for it is not the gameplay, it's the design. From the load screen to the sounds to the incredibly Victorian wording of the game options ("select a mallet to suit your talent: nimble-fingered or noble-fingered"), Steampunk Hockey goes all out to deliver you a quality anachronistic iPhone air hockey experience.
The gameplay itself is very simple. You put your finger on a golden bejeweled hockey paddle and you hit it around on an iPhone-sized table until you or your opponent scores in the opposing goal. Built-in obstacles, different puck sizes and the game's AI add a little spice to the mix.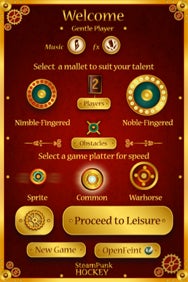 The game's two player mode is definitely its strength, because young Victorian gentlemen rarely enjoy parlor games by their lonesome. You'll be able to keep track of your scores thanks to a partnership with OpenFeint, but unfortunately the multiplayer is limited to sharing a single iPhone. Still, while I was a bit worried that two heads leaning over two different players' fingers wouldn't leave much screenspace to see what was going on— somehow it worked out. Among steampunk fans, Steampunk Hockey will become a classic, played at steampunk conferences worldwide. For the rest of us, it will have the staying power of the air hockey table at the local arcade: really fun until the skee ball machines open up.
[Bryan Schell wears a monocle when he plays ice hockey…it helps hide his laser guns.]