Want to buy a new printer? You have some decisions to make. Do you need only monochrome printing, or color capability? Do you prefer laser, LED, inkjet, or solid-ink technology? What about extras, such as wireless networking or multifunction copy/scan/fax features? Your choices will depend on what you want to do with the printer, how much printing you do, how many other people will also use the printer, and, of course, how much you can spend—for the printer itself and for the replacement ink or toner.
We'll help you figure everything out. In this article, we'll describe the major types of printers available, so you know what your options are. In another portion of this printer buying guide, we'll explain important printer specs to help you figure out which models would best fit your needs. And when you hit a brick-and-mortar store or a Website, our printer shopping tips will make your purchase easier.
The major printer technologies on the market today are inkjet, laser and LED (which are very similar), and solid-ink. Snapshot printers might also use less common technologies, such as dye-sublimation and thermal printing.
Inkjet printers
An inkjet printer squirts liquid ink through extremely small holes in a printhead to create an image. The primary reason to choose an inkjet printer is for the photo quality: Inkjets are still the best at blending colors smoothly. (The other purposes for which you'd want color output (invitations, flyers, brochures) turn out just as well with other printer technologies. Our reviews of color laser and LED printers have identified a few that can rival an inkjet printer's photo quality, but they are mostly high-end, graphics-oriented machines. If you want a compact device dedicated to photo printouts, take a look at our snapshot printer reviews.)
The other reason to choose an inkjet is because it can print on a wide variety of media. Many inkjet models can print on specially designed canvas or on iron-on transfers; others can print on banner-size or wide-format papers. You don't need to worry about baking your labels or scorching your nice stationery on an inkjet; these printers will gently print on almost anything.
With an inkjet, what you get in versatility, you lose in speed: Most inkjet printers have relatively slow to average output speeds. Business-oriented models will generally offer higher speeds than home models.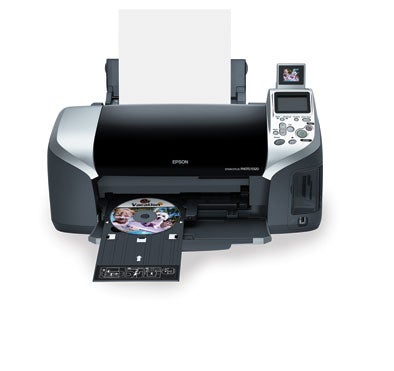 The print quality you get from an inkjet will differ depending on whether you print on plain paper, coated inkjet paper, or glossy photo paper. Inkjets have improved a great deal over the years, but some models still produce gray, fuzzy text or grainy, oddly colored graphics on plain paper. Such results might be acceptable for a school report or a flyer, but not for business purposes; and buying special paper to improve the output will add to your cost per page.
The kind of ink a printer uses can affect print quality. A dye-based (colored liquid) ink, just like watercolors used for painting, is best for blending colors; the trade-off is in the precision of text and fine lines. A pigment-based ink (particles of color suspended in liquid) will generally create crisper-looking text and lines, but it won't mix colors as nicely as dye-based inks will. Not surprisingly, photo-oriented printers normally use dye-based inks, while business-focused printers typically use pigment-based inks. Some printers offer both: pigment-based ink for text, and dye-based inks for color images.
Because the replacement inks for a color inkjet can be expensive, it pays to shop carefully. Our printer reviews provide details for each model, but you can figure out the cost for yourself, too. ( See how we calculate the cost per page.)
In general, lower-end inkjets might use tricolor cartridges, the kind that have cyan, magenta, and yellow contained in one package. These are generally a bad deal, because once you deplete a single color you have to replace all three.
Inkjets that offer separate cartridges for each ink are more efficient; models that separate the ink tank from the printhead can also save you money. Some printers have high-yield cartridge options, which offer a lower cost per page compared with standard-size cartridges. If you print fairly little to begin with, though, having a large, expensive cartridge sitting in your printer forever isn't any better for you or the ink.
Laser and LED printers
Though some small offices or departments could get by with a business-oriented inkjet, the standard office workhorse is a laser or LED printer. Each technology uses its light source to beam an image onto a rotating drum; the image attracts toner, and the toner then transfers from the drum onto paper though a quick baking process. Laser and LED printers are usually faster than inkjets and create precisely drawn text (as well as acceptable or better graphics). They are also more expensive to purchase, although their toner costs can be lower than the ink costs of an inkjet, depending on the model.
Choose a monochrome laser or LED printer for the most basic printing need: plain, black text on plain paper. These models are simple to use, their toner is cheap, and they tend to be very reliable. Models start around $100 and rise in cost from there, depending on the features and the expected monthly output.
Color laser or LED printers are expected to supplant their monochrome cousins someday, but the transition is happening slowly. Some reasons are obvious: Offices may delay replacing a machine until it's truly past its prime, for example. Another major reason is resources. Color printers are more complicated to manage. They have four toner colors and four drums (one for each color) to replace, rather than a monochrome laser's single drum. Those additional consumables take up more space inside the printer, making a color printer much bigger and heavier than a monochrome model; the spare replacements take up more space in your office's storeroom, too.
Managing the use of color within an office is a significant concern. No manager wants employees to use color when it isn't needed—or worse, to use the printer for personal purposes, such as garage-sale flyers or vacation photos. If you're shopping for an office printer, look for models that come with software that can control access to the color features. Through these applications you can, for instance, designate which users have access, or permit color usage only during office hours. Some can even limit color usage to specific applications.
If you think a color laser or LED printer will print photos that look as good as those you'd get from an inkjet, think again. Most of the machines we've tested can print perfectly pleasing pie charts, logos, color bars, and simple graphics, but they continue to struggle with smooth-looking photographic images. We've tested a handful of models that can rival an inkjet printer's photo quality, but they are mostly higher-end, graphics-oriented machines with commensurately high prices. Read our color laser printer reviews for details on specific models.
Solid ink printers
Solid-ink printers, which only Xerox currently sells, use a unique technology that melts waxlike blocks and then squirts the resulting semiliquid ink through tiny holes in a printhead onto paper.
Long ago, before color lasers took off, solid-ink printers were the best bets for office-quality color. They remain a strong competitor, and Xerox touts their less wasteful operation: The ink blocks use zero plastic packaging, unlike toner cartridges, and they take up a lot less space in shipping and storage. These models are also easy to load; you just drop the fat, crayon-like blocks of ink into keyed hoppers. Their photo quality is about the same as that of a laser or LED printer's, producing results that are adequate, but not quite as good as the typical inkjet's photos. Early problems with the high scratch-sensitivity of their output have diminished significantly, but the printers still need extra warm-up time to melt the ink.
This technology would fit well within a small office or department that wants something faster than an inkjet but somewhat less complicated than a color laser or LED printer.
Snapshot printers
Though any color printer can output an adequate or better photo, a snapshot printer does nothing but churn out images, and as a result, such a model is well worth considering for families with lots of photos to share.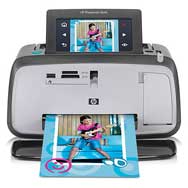 Do you need a dedicated photo printer? Consider the following questions to decide between a photo printer and a regular color printer. (If you're looking for the absolute best results, high-end photo inkjet printers are for enthusiasts or professionals who are willing to pay more to create truly gorgeous images.)
Do you like your devices small? Snapshot printers are compact and boxy, so they can fit pretty much anywhere. Standard inkjet printers tend to be twice their size or bigger. Most snapshot printers have carrying handles for portability, and a few even have battery options.
Is your media covered? Snapshot printers are designed for photography, so typically they have a full complement of media card slots for your camera's flash memory. Usually they also have a PictBridge port for connecting your camera with a cable. Some PictBridge ports also take USB flash drives; if that's the case for the printer you're considering, its specs should say so. Even if a single-function inkjet printer can handle photo output, it may not have the necessary slots or PictBridge connectivity.
Can you preview your photos? Since snapshot printers can function without a computer, they all have a color LCD screen for you to view and select photos for printing. The display will vary in size from model to model. A larger screen is more desirable for easier navigation and larger image previews, but you'll also pay more for that benefit. A few displays are also touch-sensitive, an interface that feels more natural as you navigate on-screen options. By contrast, single-function inkjet models typically don't have a display.
Are you prepared to trade editing freedom for fast gratification? All snapshot printers are capable of printing a photo without computer. As a rule, the less-expensive models offer just basic built-in editing functions, such as red-eye removal and maybe clip art, sepia-toning, or borders. Higher-end models also let you add captions or draw on the image, print layouts such as albums or calendars, and more. Don't pay for the additional features unless you're really going to use them (or you want to impress the neighbors). If you habitually fiddle with photos in editing software before you print, you'll still want to hook the printer up to your Mac so that you can take advantage of your full-fledged applications.
What paper sizes do you want to use? All snapshot printers can create a standard 4-by-6-inch print; in addition, HP's snapshot models can print on 5-by-7-inch and 4-by-12-inch photo paper. If you want to print on more sizes, consider a full-size inkjet printer or even a wide-format model.
Do you care which technology the printer uses? The major snapshot printer vendors use two technologies: inkjet and dye-sublimation. The latter involves transferring ink from a continuous roll to paper. We have tested both kinds of printers, and recommend buying an inkjet-based model. Dye-sublimation technology produces a lot of wasted ink film, and offers no noticeable advantage in image quality or speed. Thermal color printing is another, newer technology; instead of ink, it uses heat to create color reactions on special paper. Right now, it's too early to tell whether thermal printing models will be viable competitors.
Color or monochome?
Do you print lots of text, lots of graphics, or a mix? Knowing the answer to this question will help you decide between a monochrome printer and a color model.
Monochrome laser or LED printers continue to sell well, especially in the business world. If all you need to do is print plain text (letters, spreadsheets, documentation) with nothing more graphic than a simple logo or a few straight lines, a monochrome printer will suit you just fine. The consumables for these printers tend to be the cheapest around, too.
For anything beyond plain text and minimal graphics, a color printer is the better bet. At home or school, color dresses up papers and invitations—and of course, printing snapshots is another plus. On the business side, you can use color to jazz up your reports with pie charts or photography, or print forms on demand. You can also print marketing material in-house in small quantities. (Note that for bigger jobs of hundreds or thousands of pages, it would be worthwhile to compare the cost and capabilities of an outside printer.)
Once you decide that you want a color printer, you need to think about the technology. Do you want a color laser printer, or an inkjet printer? (By design, all inkjet printers can produce color output.) Is a snapshot printer all you need? Finally, shop carefully to make sure your model offers reasonably priced consumables.
Personal printers vs. business printers
How much do you need your printer to print? Is it a few sheets a day, dozens, or hundreds? Is it just you, your family, or your coworkers, too? Don't get stuck with too much printer, or too little; before you buy, decide between lower- and higher-end models, as well as between personal and business printers. Remember that if you choose a printer with new capabilities, you might end up printing more on it than you did on your previous model.
A personal inkjet or laser printer is designed to handle a lighter volume of dozens of pages a day, for one person or a family. On one end you can find bare-bones models priced at $50 to $100; at the other end you'll see $400 or $500 hot rods that you can show off to the neighbors. Speed is not necessarily a priority; most personal printers offload the image-processing burden to your computer, which makes them less expensive but also slower. Paper handling generally ranges from 100 to 150 sheets in a single tray, but some inkjet models will have a second tray for photo paper or other media. Automatic duplexing is available on some printers, and others offer on-screen prompts to walk you through manual duplexing. A USB port is a given for a single connection, but wireless capability is increasingly popular for the multicomputer home.
A business-oriented inkjet or laser printer is ready for more people and more printing, potentially hundreds of pages a day. Models range from basic $100 models to $1000-plus workhorses that will print as much as you can throw at them. Speed is money, so you should expect to pay more for a faster engine or sufficient memory. Paper handling starts with a regular, 250-sheet main input tray and a manual-feed slot or multipurpose tray, but the sky's the limit: Higher-end business printers will include second or third input trays in their standard configuration or offer them as upgrades. Automatic duplexing is available on many models; we recommend avoiding business printers that do not have it, since saving paper is good for maintaining your budget as well as for eliminating waste. Ethernet is a given for an office network, but wireless capability is starting to crop up, on the low end in particular.
Is there a kind of document you'd like to print that you can't currently? Envelopes, labels, and index cards are largely trouble-free now, thanks to straighter paper paths on most inkjets and some lasers, and manual-feed slots that bypass the toughest turns on others. High-end lasers even offer special feeding and finishing units for stapling and collating, or for stacks of envelopes or postcards. Now we're on to bigger and better things: Many color inkjets and a few color laser/LED printers can print on banner-size paper, for instance. While almost any printer can create a decent photo, some come with media slots, large displays, or on-board editing options to make the process even easier and more fun. A wide-format printer lets you print in a larger size than the typical letter or legal. Most inkjet printers can print on special fabric or canvas, and a few can print on specially coated CD or DVD media.
Multifunction printers
Do you want your printer to do other things besides print? If all you do is print your own documents, you might not need a multifunction printer (MFP)—or all-in-one, as they are sometimes called. But if you want to digitize paper-based files or communicate a lot with other people, an MFP would be a perfect choice. In one space-saving box, you can get a printer, scanner, copier, and fax machine-with little compromise. You can copy, create electronic images of documents, and send them via e-mail or other means.
Inkjet MFPs are available for as little as $100, and more for monochrome- or color-laser/LED MFPs, usually with somewhat lesser speed compared with a like-priced single-function printer. Personal multifunction models might have a simple flatbed scanner, but their business-oriented cousins will add an automatic document feeder (ADF) for simpler scanning of multipage documents.
You might want something other than an MFP if any of your scanning needs are high-volume or specialized. For example, if you have a long-term need to scan hundreds or thousands of pages of documents, a dedicated document scanner with its own ADF will make that job a lot easier. If you want to be able to scan slides or to create superhigh-resolution electronic images of old photos, a dedicated photo scanner will have the resolution and adapters you need. If your office is a very busy one, forcing one machine to juggle everyone's printing, copying, scanning, and faxing demands could overwhelm it, and frustrate your users.
Wide-format printers
Most printers print on letter- and legal-size paper, up to 8.5 inches wide. Wide-format printers can print on paper sizes up to 11 inches wide and 17 inches long (called tabloid or ledger, depending on orientation). If you want to print posters, or if you'd like to create a letter-size brochure with a fold in the middle (rather than stapled pages), a wide-format printer can do it for you. But such a printer will cost more and be naturally bigger and heavier than a regular-size model. Printing a bigger page will take longer, so engine speed and internal memory will be more important.
[Melissa Riofrio is a senior editor for PCWorld.]