At a Glance
Expert's Rating
Our Verdict
When moving or copying files between two Finder windows—a common task—I often place the windows side-by-side and enlarge them to display as many files as possible. I've covered several utilities for making such Finder-window arrangement easier, including TwoUp and SizeUp, but WordPower's Fiwi may be the simplest solution yet.
Designed to be placed in the Dock or in your Finder-window sidebar or toolbar, Fiwi is a one-click utility that, when launched with its default settings, positions two equally sized Finder windows side-by-side on your screen. (If you have multiple displays, by default Fiwi places the windows on your main display—the one with the menu bar.) Fiwi preserves each window's settings: the view mode, whether or not the toolbar and sidebar are visible, and so on. Once the windows are in place, Fiwi quits.
Although Fiwi performs a relatively simple action, how that action is accomplished depends on whether or not windows are currently open in the Finder. If no windows are open, Fiwi opens two new ones, each to the default view (Home, Computer—whatever your Finder settings dictate). If only a single window is open, by default it's placed on the left and a new window is placed on the right. If two or more windows are already open, Fiwi resizes and repositions the two most-recently accessed: the most-recently used window appears on the right, and the next-most-recently used window appears on the left. Whichever is the case, if you want to swap the two windows, just launch Fiwi again.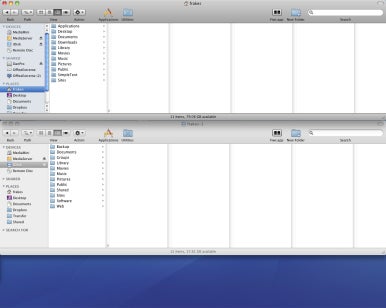 You can tweak a few aspects of Fiwi's functionality using a companion utility, Fiwi Plus Set Up. For example, you can choose to have Fiwi arrange the two windows above and below each other, rather than side-by-side. (Can't decide? Make a copy of the Fiwi app and name one copy Fiwir and the other Fiwic; launching Fiwir puts windows above and below [rows], while launching Fiwic puts windows side-by-side [columns].) Or you can position two Finder windows in whatever particular arrangement you prefer and tell Fiwi to use that arrangement instead; I've used this option to configure two Finder windows above and below each other on my second display, and it's also useful if you aren't happy with the exact positioning of windows using Fiwi's default settings.
You can also use Fiwi to set up windows in other applications, although doing so is a confusing process. One option I'd like to see is a way to always create two new Finder windows, even if there are windows already open.
Fiwi is a simple utility, but it's made my frequent file-moving sessions easier.
Want to stay up to date with the latest Gems? Sign up for the Mac Gems newsletter for a weekly e-mail summary of Gems reviews sent directly to your Inbox.