TLC isn't the first channel most people flip to when they turn on the tube, but as far as campy reality programming goes, the cable channel has got the most original and controversial line-up around by far. For those who just can't get enough Jon & Kate Plus 8 or What Not to Wear, the TLC Network app from TLC provides a handy go-anywhere experience, for the low, low price of absolutely free.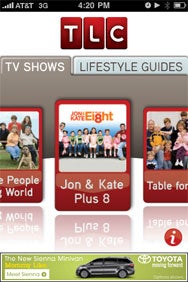 The app features a host of TLC's shows, including but not limited to 19 Kids and Counting (Ever heard of the Duggars? You have to see it to believe it), Say Yes to the Dress (Who knew half an hour of wedding gown fittings could be so entertaining?), and Toddlers & Tiaras (Baby beauty queens. Enough said).
Each show's page includes a tab of video clips from the program as well as a More tab with photos, cast bios, related blogs from the TLC Website, and links to full episodes on the iTunes store. You can also view a list of upcoming airings for something to look forward to when you're finally back in front of the television.
To add a little more dimension—and maybe a lot more obnoxiousness—you can link the app to your Twitter and Facebook accounts, allowing you to publish videos and links you like to your feeds. The app also offers TLC lifestyle guides with blogs on food, family, style, and more.
The app is also beautiful to look at, with crisp graphics and neatly designed menus. It's almost amazing that all of this can be free, but then you notice the little Toyota ad at the bottom of the screen. No big deal. It's also a bummer to click the "full episodes" tab and realize that you'll have to pay $2 for each, but then again that's to be expected.
Now, I try not to turn my television viewing habits into a lifestyle, but the TLC Network app can certainly do that for you if you are so inclined. If the wait list at Kat Von D's High Voltage Tattoo in Hollywood is any indication, there are probably plenty of LA Ink fans out there just dying to carry the show around in their pockets.
[Meghann Myers is Macworld's editorial intern.]