Skater Nation from Gameloft is a full featured skating game fans of the Tony Hawk series are sure to appreciate. The game provides an open-world environment consisting of ten different locations ranging from skate parks to beaches to other well-realized locales. All the locations look great and are loaded with ramps, rails and other surfaces to skate on.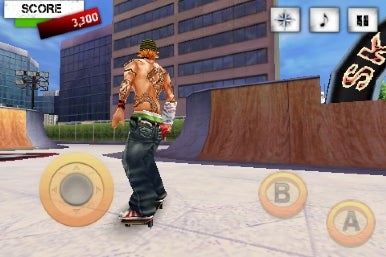 There are eight skaters you can play as, each with their own stats and looks. As you progress through the game's single player campaign, you'll be able to unlock all sorts of decks, trucks, wheels and other accessories. All of the items give your character noticeable boosts in speed, jump height, rail balance and more.
Skater Nation has two modes of play—free skate and career mode. Free skate mode lets you wander around as you wish while career mode offers many challenges like finding hidden objects, getting combos for high scores and so on. Each location has its own set of missions, challenges, and quirks.
The controls consist of a virtual D-pad and two buttons for tricks. The accelerometer is used to maintain balance while rail sliding or doing other balancing tricks. While other console simulators have struggled in their translation to the iPhone platform, Skater Nation's controls are simple, intuitive and fun. The use of the accelerometer was an especially clever inclusion, effectively allowing to feel what it's like to balance on a skate board.
As always, Gameloft is able to create a realistic world with full 3-D graphics. Skater Nation boasts some great detailed models and surroundings that help create a truly immersive experience. On the whole I found the game to be a well-balance mix of exceptional graphics, fun and challenge. You can spend countless hours perfecting your technique and exploring. You can even upload videos of you best tricks to Youtube. If you are a fan of the Tony Hawk console games, you should check this one out for sure.
[Tim Mercer is a frequent contributor to Macworld and the master of the kickflip McTwist.]